I know what you're thinking—"Why do I care about a Kansas Bed and Breakfast? I'm not going to Kansas." Well that's the first part of your problem. You should be.
Kansas was the first stop on our Great American Road Trip because we live in Texas and we were going to South Dakota and driving for 20 hours straight didn't sound fun. Fontana, KS happened to be almost exactly halfway between the two and so Kansas was a stop, but not one we particularly planned, it just worked out that way. We certainly didn't plan on finding the best B&B in Kansas. I mean, who goes to Kansas, anyway?
Isn't Kansas boring?
If you're from either of the coasts in the U.S., you probably have the same concept of Kansas that we did: it's big, flat, and there's nothing to see. We couldn't have been more wrong. While western Kansas is most certainly flat, the eastern half is surprisingly and wonderfully hilly. It's not the breathtaking vistas of the Rockies, but the peaceful beauty of a verdant, pastoral landscape is not lost on me. I felt a tinge of guilt as though I shouldn't have been discounting Kansas all this time. We drove on, continuously pleased and slightly surprised with everything we saw until we finally made it to the town of Fontana.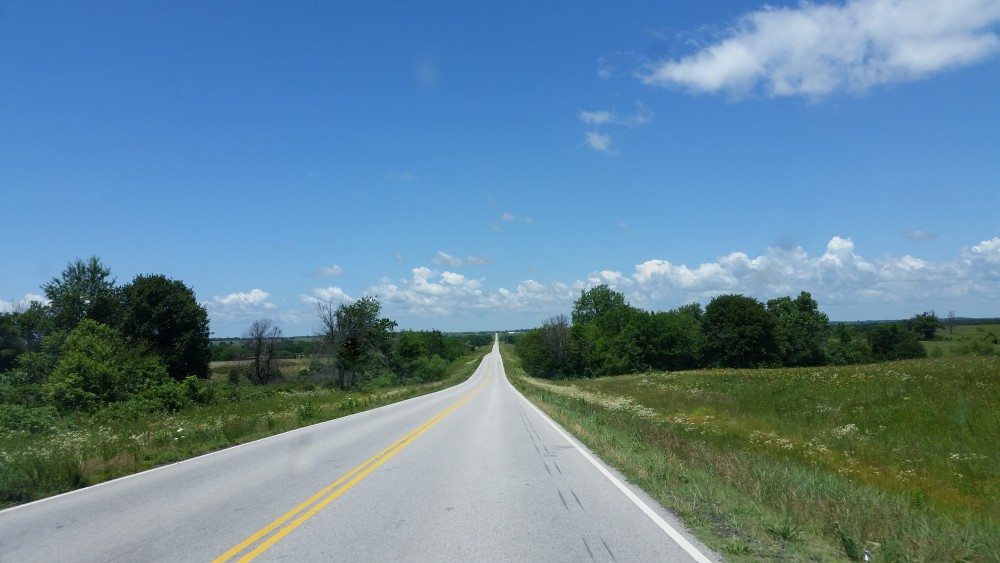 I will be honest, I almost titled this post "The Best B&B in America" but I don't really stay at enough of them to make that call. That being said, I am absolutely positive there isn't a better one. Full disclosure, I personally know the owners of the B&B. Additional disclosure: I have stayed with plenty of people I know and had a terrible time. This review is legit, and so is this Bed and Breakfast.
The Best B&B in Kansas is…Netherfield Natural Farm!
Netherfield Natural Farm is a "farm-fresh bed and breakfast" run by two lovely gentleman named Matthew and Scott. Scott and I used to work at a bar in D.C. together and it had been years since I'd seen him. We were planning on camping on his farmland rather than renting a room in the house (we are poor hobos) but when there was a last minute cancellation, he let us take a room for free. Friend-perks are always nice!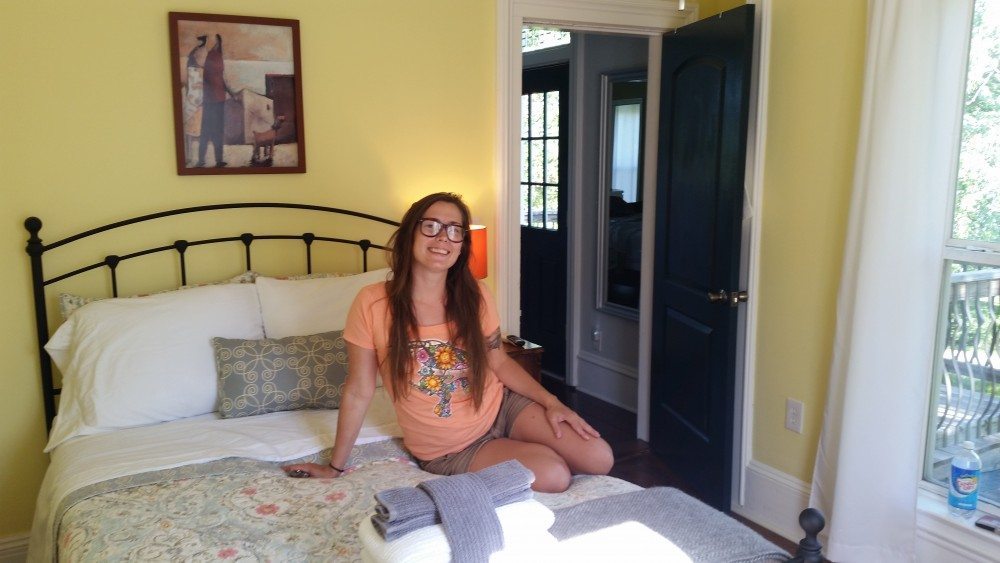 We stayed in the The Mary Vance-Geer Room and the rest of the rooms in the house were all full as well. With another older couple and two sisters who were also staying the weekend, we had a full house for every meal and no shortage of conversation to make. Scott cooks all the meals from scratch and the first night he made the best Calzone I've ever had in my life. Seriously. He insisted that, "There's nothing to it" but when I tried at home I made a barely edible lump of mostly raw dough. Definitely get the meal package if you're staying.
After dinner in the evenings we sat around the firepit drinking wine, catching up, and getting to know the other guests. It was absolutely delightful.
It's Uniquely Charming
In the days, when the weather is nice you can spend a few relaxing hours in the pool, or just having cocktails at the pool bar. Chickens and turkeys and quails roam the grounds freely while the cattle chill out in their pen. The house is surrounded by gardens growing fresh vegetables that are used for breakfast and dinner each day. You can also walk to the pond around some nature trails if you like. We alternated a lot between the pool, the pool bar, and then my favorite place…
The Bar/n
The Bar/n is exactly what it looks like: it is a bar inside of a barn. The official tagline is, "Where livestock and libations meet," and that is the truth. Post up at the bar (it is BYOB) to enjoy a few drinks and any number of farm animals may come strolling through. You can also play darts or watch the game on satellite TVs. We spent a lot of time in there. We were also treated with the pleasure of meeting Matt and Scott's neighbor, "Fat Daddy" who was just as rural and jovial as he sounds and who gave us homemade jars of Kansas Red (an explosion of flavor similar to a blood mary) and some pickled green beans for the road as well.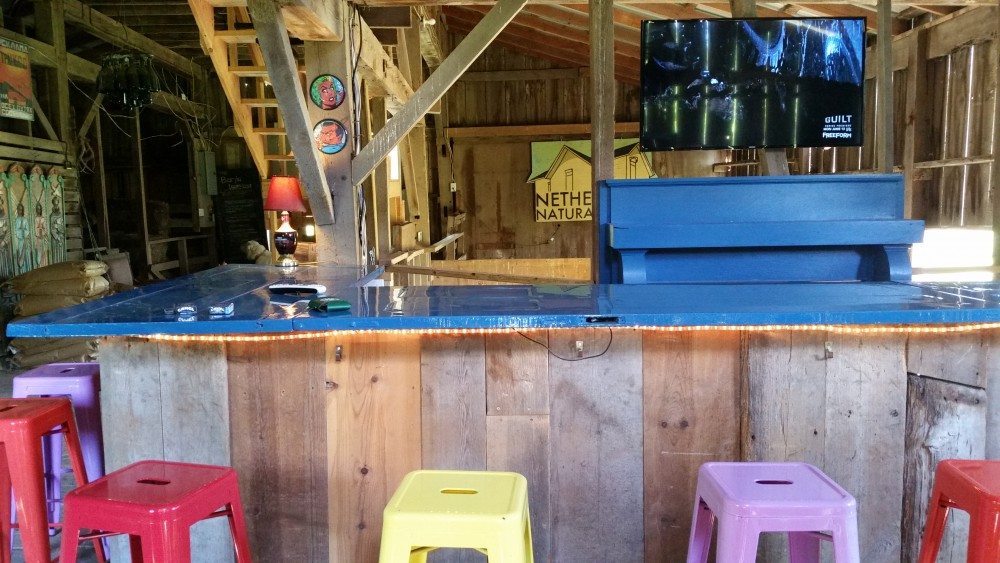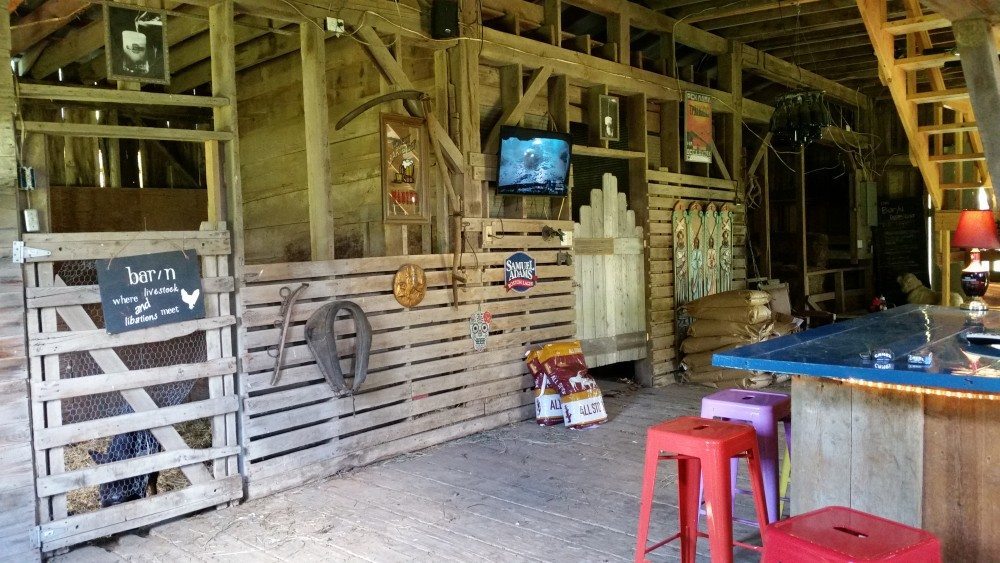 After only two nights at the farm, it was sadly time for us to head to South Dakota and really start our six week trip. But for our very first stop we couldn't have asked for better food, better conversation, or a better place to get sunburned with a cocktail.
If you're interested in staying at the best b&b in Kansas, just click that link and pick your nights! Kansas may not be a destination many people consider, but if you do, there is no question that this is the place you should be staying.