Okok, I know it's February. But two months behind schedule is pretty much where my blog lives. So even though everyone is totally ready for winter to be over, I'm going to talk about the peak of the holiday season instead!
By the time this Christmas rolled around, my husband and I were ready for a break. Money had been tight since I lost some work in July and we hadn't even had a weekend out of town in months. But without any money in the bank, it looked like we would be spending the five day Christmas weekend at home in our apartment. But then, out of the blue, my saint of a mother gave us the most miraculous Christmas/birthday present any broke person can receive: a vacation.
With two tickets on the KTX and a nice hotel in Busan for the holiday weekend, we were set to get out of Seoul. The KTX is the high-speed rail in Korea which makes the 5 hour journey to Busan in just 2.5 hours. The ride is smooth, comfortable, and allows panoramic views of the Korean countryside. It's by far the best way to travel. Have I ever mentioned how much I love trains?
With a hotel room on Haeundae Beach overlooking the East Sea (or sea of Japan, whatever) we were ready for a weekend of eating, drinking, and exploring. So here I present you with a few lovely highlights from our all-too-brief foray into Korea's second city.
Haeundae Beach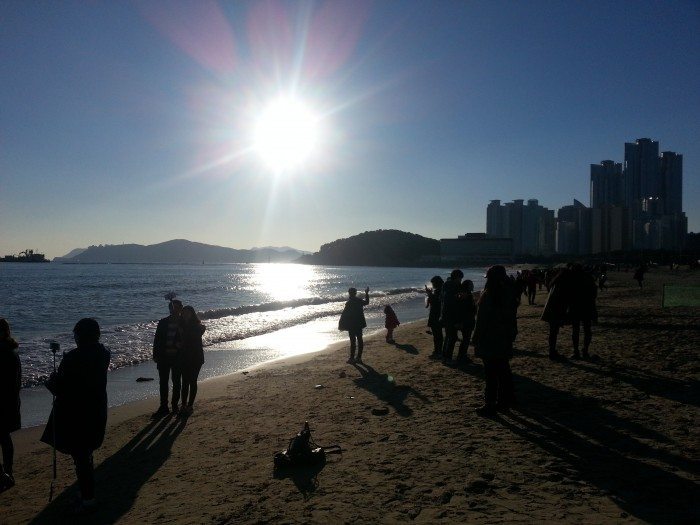 Though it was slightly warmer in Busan than in Seoul (about 10°C), it certainly wasn't warm enough for swimming. But that doesn't mean you can't enjoy a beautiful beach. As we checked into our hotel, the MS Haeundae, we were greeted with stunning views overlooking the ocean as the sun began its descent towards the horizon. Though the bed was ridiculously comfy, we fought the urge to stay in the cozy room and headed down to the beach to breathe it all in. Of course, Korean beaches are packed with selfie-stick users no matter what the weather, even on Christmas Day. I can't quite explain the vibe at Haeundae Beach, but we instantly fell in love with it. There was something more laid back and open about the neighborhood than most places we go in Seoul. It felt relaxed and fun and welcoming and we both decided we would move to Busan if we were staying in Korea another year.
So we got some beers and sat at the edge of the beach listening to some live music that popped up and watching the waves of people flood in and out of the expansive beach. One of our favorite things to do is just have a nice sit and drink and chat.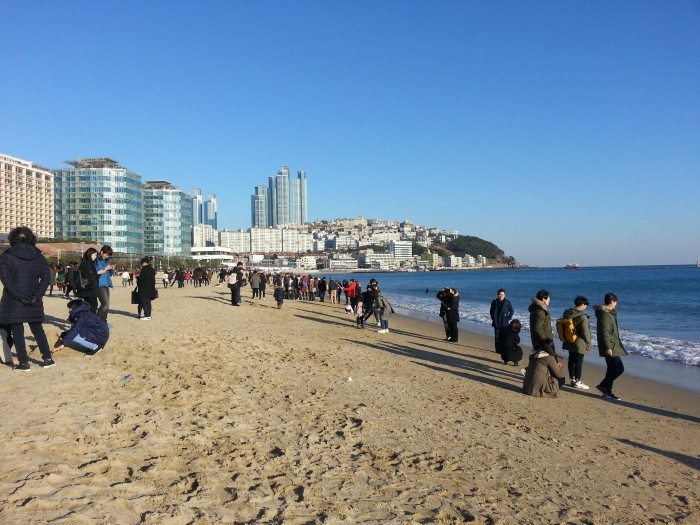 Busan Christmas Tree Festival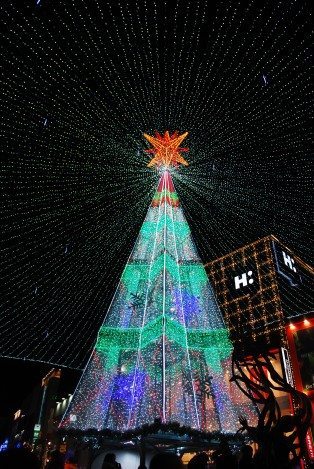 Once the sun set, it was time to find a little more action than beers on a beach. Busan celebrates Christmas each year with the Christmas Tree Festival, which drapes the city center in twinkling lights and provides that magical holiday feeling so many hold so dear. We wandered through the buzzing streets of the central Biff Square, thoroughly enjoying just taking it all in. Biff Square is a shopper's paradise with every boutique imaginable lining the streets. Huddy and I, however, have always been more people watchers than shoppers, so we continued on our meandering way.
We were in the market for a proper Western-style burger, but when we finally reached Farmer's Burgers at 8pm, they were already closing (what?) Apparently they had a busy day and decided just to shut it down. More on that later. The festival was bright, festive, charming, and enough to make walking around in the cold a worthwhile endeavour. Back in the States, Christmas is an onslaught of lights and advertisements and music and ugly holiday sweaters, but somehow in Korea I started to miss all those obnoxious festivities, if only just a little. Busan was just the right amount of Christmas spirit to quell my longing for cocoa and carolers.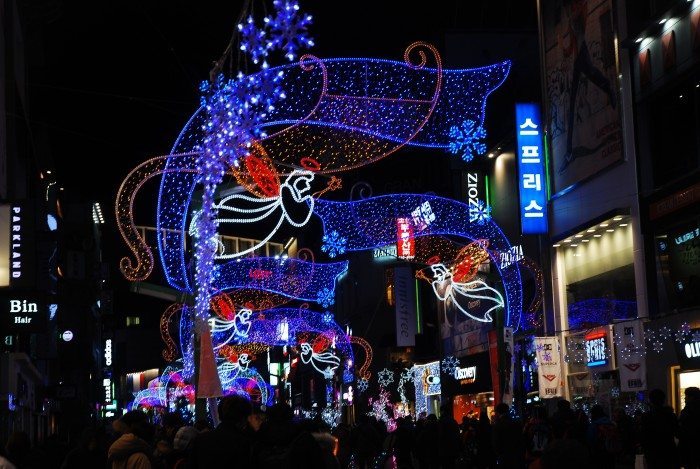 Gamcheon Culture Village
I've already seen so many bloggers cover this awesome neighborhood, so I won't go on about it. But if you're in Busan, you have to check it out. Wandering through steep, narrow alleys, searching for ever-more eclectic paint jobs and intriguing doors, it's one of the coolest places I've seen in Korea. It probably deserves its own blog post, but instead you can just look at these pretty pictures and try to find the elephant.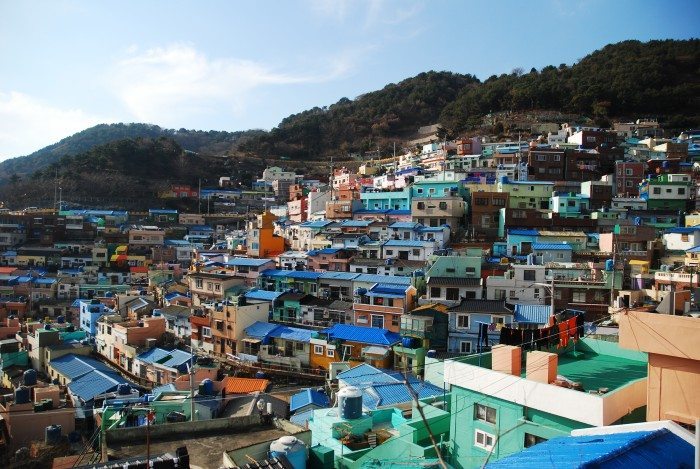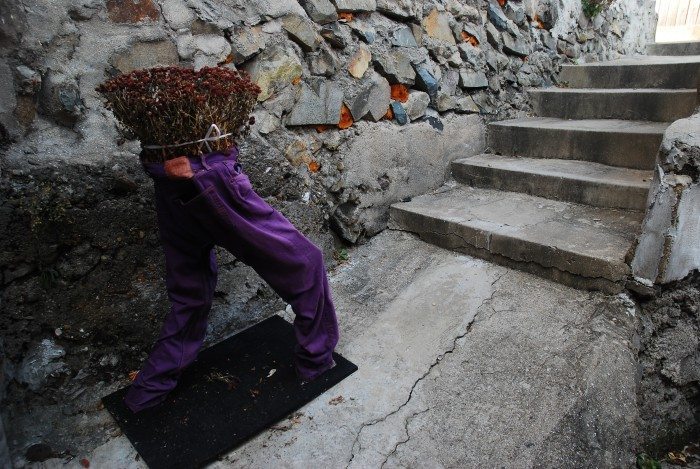 After somehow finding our way out of the maze that is that tiny village, it was time to head straight to the KTX and back to Seoul. Our three days in Busan were spent eating delicious food, wandering around neighborhoods, drinking (of course), and even a good amount of curling up in our comfy hotel bed watching movies. Because what's the point of getting a nice hotel if you're not gonna use it? Busan is a spectacular city that manages to stay relaxed despite its 4 million inhabitants. I'm sorry, Seoul, but I think Busan just may have you beat!
Oh, I almost forgot. We went back to Farmer's Burgers just before catching the KTX. Verdict: overrated. Our favorite places to eat were Sharky's and the Wolfhound. Any other restaurant recs in Busan? And who's got the best burger? I must know!