After six full weeks traveling the western half of the United States, we are finally back in Texas and I am here to present you with a full breakdown of EVERYTHING from miles driven to dollars spent. Over the next few months I am hoping to continue to add posts on our favorite destinations along with tips to help you avoid any mistakes we made. That being said, we didn't really make any big ones. No "I wish we would have done that instead" thoughts linger in my mind now that we're home. Without further ado, I present you with The Great American Road Trip: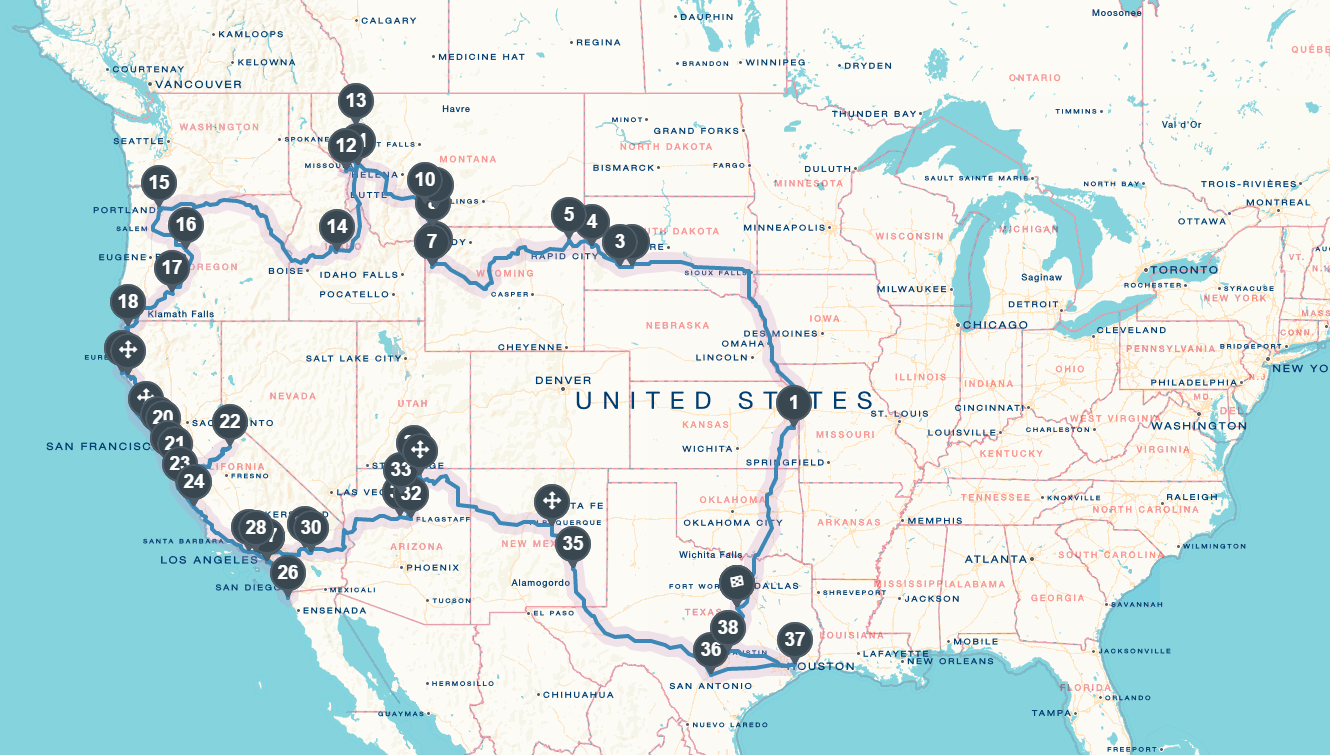 Road Trip Breakdown:
Total Nights:
41
Places Visited:
39
Miles Driven:
8,027
License Plates Seen:
49 states, 6 CA provinces, 1 EU country, and 2 Mexican states
Miles Hiked:
89.7
Moose Spotted:
2
Rattlesnakes Encountered:
2
States Visited:
12 (KS, SD, WY
, MT, ID, OR, CA, AZ, UT, NM, TX + Baja, MEX)
National Parks:
9
State Parks:
7
Most Nights Spent in One Place:
3
Times Fast Food Eaten:
2
Meals Eaten at Restaurants
25
Nights Camping:
23
Nights with Friends:
10
Nights at AirBnBs:
5
Nights at Motels:
3
Total Cost for 2 People:
$4639.00
Gas:
$976.81
Accommodation:
$959.22
Daily Spending Total:
$2702.97
Average Per day:
$66.98 ($33.49 per person)
Average incl. gas & accommodation:
$110.45 ($55.23 per person)
Average incl. gas & accommodation excl. booze:
$82.49 ($41.24 per person)
% of Daily Spending on Booze and Bars:
43.4%
American Road Trip Itinerary (Places we slept or camped are in bold):
Whitney, TX
Fontana, KS
Badlands Nat'l Park, SD
Wall, SD
Sturgis, SD
Deadwood, SD
Devil's Tower Nat'l Monument, WY
Grand Teton Nat'l Park, WY
Yellowstone Nat'l Park, WY
Gardiner, MT
Livingston, MT
Bozeman, MT
Lolo Hot Springs, MT
Flathead Lake State Park, MT
Missoula, MT
Sawtooth Wilderness, Stanley, ID
Portland, OR
Crater Lake Nat'l Park, OR
Valley of the Rogue State Park, OR
Redwood Nat'l Park, CA
Lost Coast, CA (King Range Nat'l Conservation Area)
San Francisco, CA
Santa Cruz, CA
Yosemite Nat'l Park
Julia Pfeiffer Burns State Park, CA
San Simeon, CA
Huntington Beach, CA
Rosarito, MEX
Venice Beach, CA
Joshua Tree Nat'l Park, CA
Kaibab Lake State Park, AZ
Flagstaff, AZ
Grand Canyon Nat'l Park, AZ
Glen Canyon Nat'l Recreation Area, AZ/UT
Lone Rock Beach, Lake Powell, UT
Roswell, NM
San Antonio, TX
Mustang Island State Park, TX
Padre Island Nat'l Recreation Area, TX
Austin, TX
Whitney, TX
Trip Highlights:
Upper Falls Trail, Yosemite National Park
Cascade Canyon Trail, Grand Teton National Park
Hiking the Sawtooth Wilderness in Idaho
The drive down 93 from Missoula, MT to Stanley, ID
The drive up 89 from the Grand Canyon to Lake Powell
Ending up at Lake Powell because the car broke down in Flagstaff and the lady at the auto repair shop told us it was awesome; she was right
Trip Lowlights:
We had to skip Washington State entirely because there just wasn't enough time
Missing a hike into the Grand Canyon because Lurleen needed a new waterpump
Missing Carlsbad Caverns because Lurleen needed a new fuel filter
Roswell, NM was a sad, boring place. Actually pretty much all of New Mexico is garbage save for White Sands and (I'm assuming) Carlsbad
Joshua Tree was covered in aggressive, thirsty, swarms of bees so we were unable to hike or even get out of the car without getting stung
Getting a pancake-sized bee sting on my butt that lasted for many days in the five minutes I attempted to step out of the car
Wearing a bikini at Lake Powell with a bright red, pancake-sized, bee sting on my butt
Things Added to Bucket List:
Hiking the 25-mile Lost Coast Trail
Hiking the Half Dome trail in Yosemite
Rafting the Salmon River in Idaho
Hiking from the North Rim to the South Rim of the Grand Canyon
We cut out spending real time in Utah because we heard it's just too beautiful and there's too much to see to only go for a couple of days. So Utah is now officially our destination for Spring Break 2017!
Road Trip Spending Breakdown:
I tracked every penny we spent over the six week trip and broke it down into relatively self-explanatory categories. A couple notes here: I excluded the $403 we spent on car repairs as our Jeep is 20 years old and obviously not everyone would have that expense. I also excluded the $283 we spent on cigarettes because basically no one smokes anymore. Except me. I love cigarettes. Eating out includes both restaurants and fast food and I am very proud to say we only had fast food twice despite well over a hundred hours of driving time. Here are a few extra notes:
"Misc" includes things like firewood, a new car charger for our phones, and a shade tent for our very last beach stop in 102° heat.

"Activities" includes $80 for a National Parks Pass, which paid for itself many times over when entrance fees are often $20 – $30 per park. We had a pass that expired at the end of June and had to buy a second one for the last two weeks. Still paid for itself in just three parks. Extra note, these passes are also valid at National Recreation Areas, and many other nationally managed lands.

"Souvenirs" involves magnets that we collect, stickers, and postcards, along with two t-shirts and a hat. Obviously you don't NEED these things, but I just can't pass up a cheesy fridge magnet.

While we left with a general goal of spending $50 per day for both of us (excluding gas and accommodation) we made exceptions for city stops, especially when we would be staying with friends. Sure you can eat ham and cheese sandwiches at your friend's house in San Francisco, but that's not realllly why you go to cities like SF. We splurged in Portland, SF, Santa Cruz, Huntington Beach, and Venice Beach. We could have forced ourselves to stick to the original budget, but we decided enjoying ourselves was well worth it in the end. And we were right. As such, we basically never said no to things, but were always conscious of what we were spending. Buying snacks and drinks at every gas station stop, for instance, is one of the easiest ways to accidentally add $10 to every day.

When buying groceries we stuck to things that are cheap and easy to make and eat at camp and while hiking. Ham and cheese sandwiches, pasta and sauce with kielbasa, mac and cheese (with the squeezey sauce), granola bars, apples, and the occasional bacon and egg breakfast constituted basically our whole diet at camp. Oh, and a bunch of those orange colored peanut butter cracker packs. We got about 30 of them for free and they came through in many pinches. Our diet was definitely low on veggies, but everyone who camps knows that easier to eat and easier to clean always wins at the end of the day. Especially when you're packing up camp every day or two.

Not everyone taking this trip will have friends to cover 25% of their sleeps by letting you stay on their couch. This greatly lowered our overall accommodation spend, but I still think we could have done pretty well scouring for cheaper and free campsites. Pro Tip: Check for National Forests near where you want to stay. In America they often offer free "dispersed camping" which basically means setting up your tent in a primitive site spread out throughout the forest. Our fast pace, however, meant sometimes we had to spring for a $40 campsite to save an extra hour of driving on a long day.

Moving so fast meant higher per diem costs as well. We could have stretched out this trip a LOT longer for proportionately less money. If you're not spending $50 on gas every day or every other day you can camp in the same place for a week or more and hiking is always free! Not to mention spending a week or two at the same campsite means no bars or restaurants, which is the easiest way to tear through money.

If we didn't drink booze, this trip would have been DIRT CHEAP!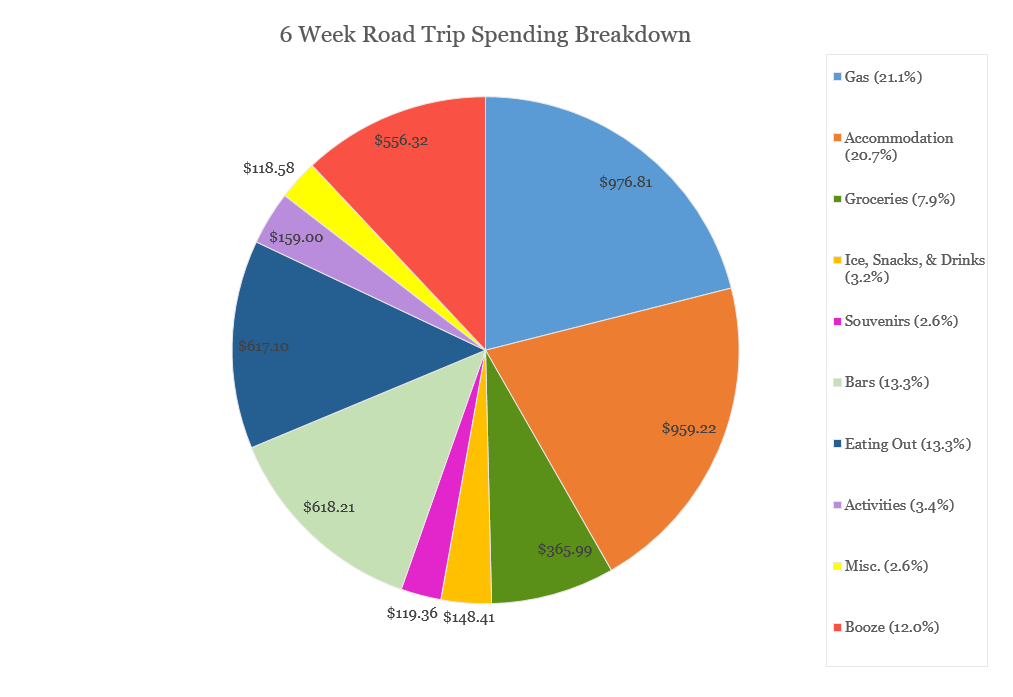 The moral of the story is that for less than $20,157 a year (based on averaging daily spending, dividing by 2 persons, and multiplying by 365 days) you could be constantly traveling, going out to bars and restaurants, enjoying America's cities, and exploring the best places America has to offer (hint: it's not the cities). For all you sticklers out there, you can add the cost of car insurance ($32.01 per month = $384.12 annually) and a cell phone ($54 per month = $648 annually). I'm not going to add the cost of my health insurance because it's too depressing and I don't want to talk about it. But you see what I'm getting at here. Travel can be even cheaper than the cost of just living in one place and not doing anything!
So tell me…How much do you spend in an average year just sitting at home?