After a day of quiet wandering within the four-hundred year old walls of the old city in Cartagena, I already begin to feel the ease of travel settling again within me. Like an overdue reunion with an old friend, I tenuously search for the solid ground I know we still share. Unfounded fears and the rattling of culture shock dissipate quickly into curious excitement and the smile that only a stranger in a foreign land can smile.
I barely speak ten words of Spanish, which quickly proves more frustrating than I originally envisioned, but I manage to get around well enough and am quickly teaching myself the most critical of phrases. Cartagena is a city rich and pregnant with history and character. I find myself stopping at every corner unsure of which way I want to turn, with each narrow cobblestone street as much a temptation as the next. It is an easy city in which to get both lost and found. Wandering past the same squares again and again with no real destination, the colorful colonial buildings line each deceptively winding street with merchants peddling their wares on every square inch of sidewalk. I have no idea where I am going, but know I am not far from whatever it is I may need.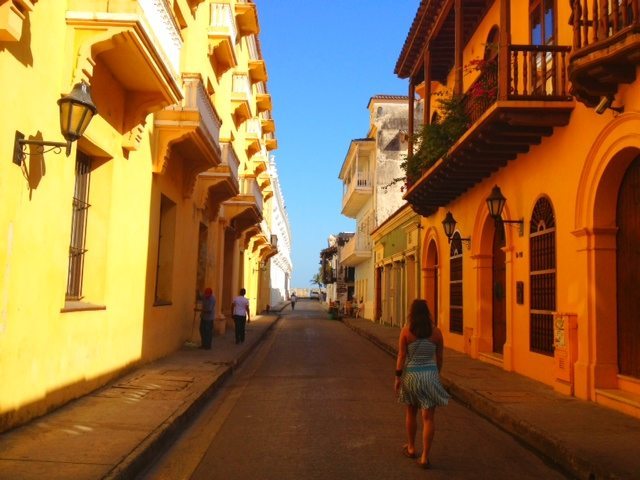 Whispers of remnants of warnings float through my head, worry of everyone back home that Colombia is dangerous, that I should not be traveling alone, that I am sure to be kidnapped. But in this city I am greeted with nothing but smiles, and though it's clear I don't speak the language, I am always given the correct change, and the best attempt at directions they have. I feel safer here than I did in most of Southeast Asia and I wonder what the rest of the country has in store.
A few hours of strolling the city streets and the impending arrival of one of my very best friends begins to swell excitement within me. As the strong mid-day sun meanders its way to afternoon breezes I wind my way back to the hostel to wait for her in one of the brightly colored hammocks that lie begging for nothing but laze in the open-air common area of our magnificent (though slightly pricey) hostel, Casa de la Chicheria.
As I lie with the sporadic song of wind chimes dancing around me I realize this is the first time in my life I will be on an adventure with just one close friend. One single soul with whom to share each experience. I think of the opportunity to strengthen our friendship further that will come from the quiet lull of days spent in no one's company but our own, and I smile as my eyes flutter shut once again.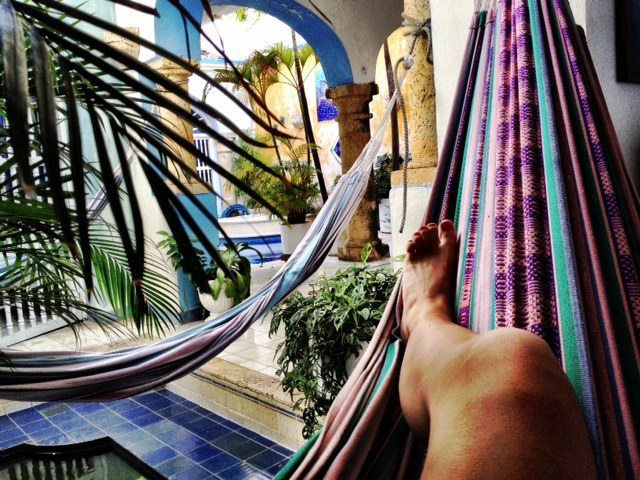 The next time they open I am looking into the eyes of my friend, fresh from her fifteen hour DC>Miami>Bogota>Cartagena flight. Even though we live not fifteen minutes from one another in the States, I am lucky to see her a few times a month, my schedule at the bar being exactly opposite that of basically everyone I know. We have never traveled together before and I wonder what our dynamic will be; if we will have to plan and discuss and compromise each choice, or if decisions will come easy, without thought in effortless agreement, to our next destination.
Within a day it is clear it will be the latter. We spend our first morning visiting the famous mud volcano, the top of which acts like a spa filled with incredibly buoyant, slippery stone-grey mud. The crowded pool is filled with travelers giggling as locals massage the mud across their slippery skin and get launched across the top of the seemingly bottomless, bubbling pit. With transportation and a delicious fresh fish meal included it was well worth the $35,000 pesos we paid.
When we arrived back at the hostel in still giddy spirits, we discussed our next step and ended up booking an early morning bus to Tangaga, a small fishing village just ten minutes from the high-rise resort covered beaches of Santa Marta. Touted as a backpacker haven and a great place to get SCUBA certified, it is yet another effortless decision.
We spend our last night in Cartagena before our highly anticipated move to the beach wandering the city inhaling its many beauties. We walk along the top of the wall and watch the surf jump up onto the highway above the barricade. We meander the streets with our necks strained, admiring the overgrown flora that cascades from the balconies of the nicer boutique hotels. And as the day dwindles to night we attempt to make our way home, but end up in a different bar each time we lose our way.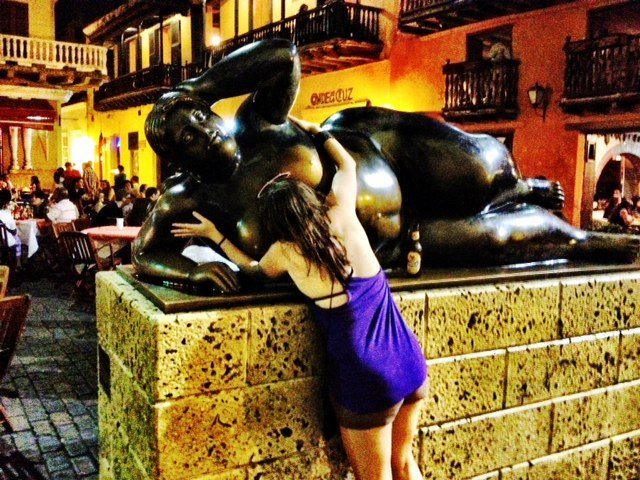 Cartagena is the easiest lost I have experienced in any city. Usually fraught with fear and unease, I am petrified of what pervert or miscreant might await around every corner. With many of the stories I tell here, there is an imminent danger, or a vulnerability I just can't shake. But inside the walls of this city, there is no such thing as lost. Only a longer way to get home. And half drunk in a colorful, colonial, Caribbean city with one of my favorite people on the planet, I can't say I mind it one bit.