Is South Korea top on your list of places to visit? Probably not, but it should be.
Here's why.
After living in Seoul for the past two years, I've seen a LOT of what this spectacular city has to offer. While there are lots of beautiful and astounding places to see outside of the city, this month's itinerary focuses on the food, sights, culture, and history that make this ancient capital city worth exploring.
Over the recent Lunar New Year holiday, my mother-in-law came to visit. Needless to say, I was worried about keeping her entertained. Though much of the city shuts down for this important holiday, there's still plenty to do and see in the (real) city that never sleeps. There's also plenty more to do in the warmer summer months, so keep in mind this is more of a winter itinerary. Despite the freezing weather, we still saw a whole lot in just 7 days.
This Seoul itinerary doesn't involve living in the lap of luxury, but it also doesn't involve eating street food for every meal. We ate out a few times a day, enjoyed frequent cocktails, and bought souvenirs when it struck our fancy. If there's one strange thing about Seoul, you can spend as much or as little as you want and still have a great time.

Also, if you're looking for a travel guide, I highly recommend this one. Even living in Seoul, we used this guide on a weekly basis. Their "Seoul's Best" lists are 100% spot-on and we did every single one of them in our time there. Includes lots of places within a few hours of the city as well. OK, let's get started.
Points of Interest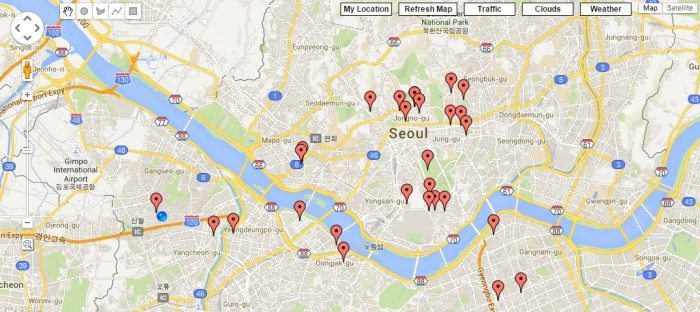 The Breakdown
Budget: $1200
Cost of Flight (from CLT): FREE with miles!
Accommodation: ~$510
Travel Expenses: ~$500
Amount Under Budget: $190
Comfort Level: Grown-up Tourist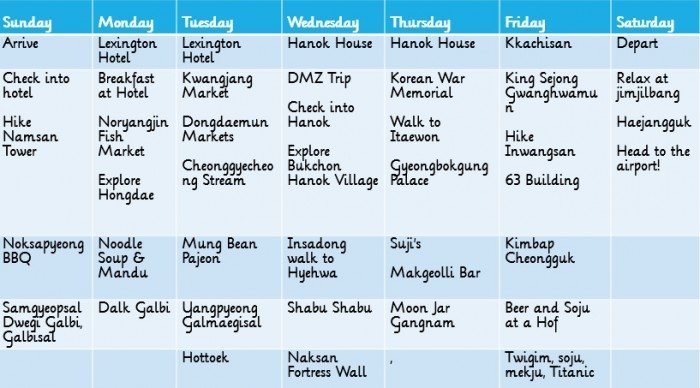 This Seoul itinerary is super-duper detailed, so be prepared.
Day 1: Namsan Tower, Noksapyeong BBQ, Noraebang
If you're like me, you will stay in a cheap hostel in the center of town. But since our guest was not a seasoned traveler, we opted for the Kensington Hotel in Yeouido. (FKA: The Lexington Hotel). Luxurious, great views, and centrally located so it's easy to get to lots of places. And at $100 a night including a great breakfast buffet, it isn't gonna break the bank before you even leave your room.
The top of Namsan is a 10 minute walk from Noksapyeong Station followed by a quick 20 minute hike. Heading to the top of Namsan Tower means expansive views of the city in every direction. Unless of course the whole city is blanketed in a thick haze. But you'll get used to that here.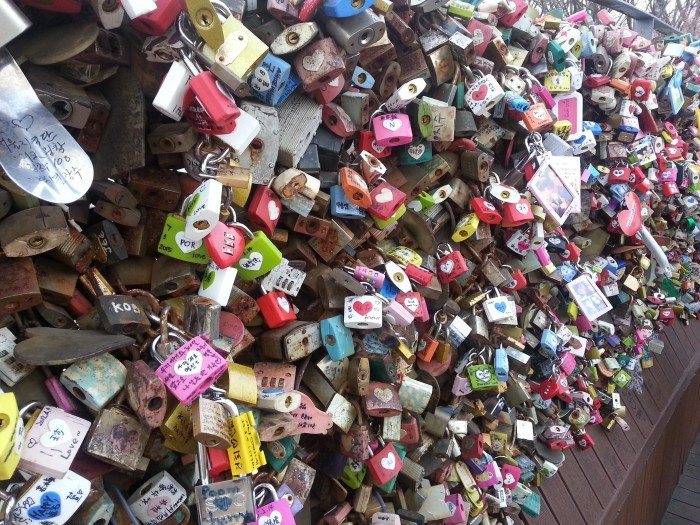 On your way walking back to the subway station, you will pass a BBQ restaurant on a corner on your right. It's pinned on the map to help you find it. Eat there. Order the samgyeopsal, the dwegi galbi, and the galbisal. You're welcome.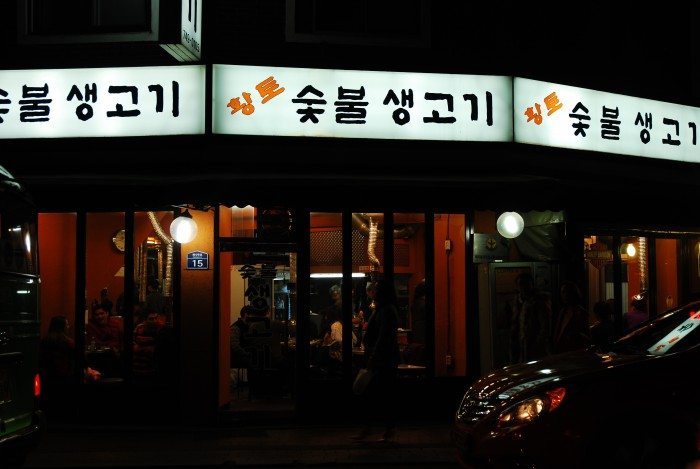 If the soju and beer has loosened you up enough, then find your way to a noraebang. These private karaoke rooms are an inescapable part of the Seoul landscape. Stumble into any one you please, order some beers and sojus, and start singing. Noraebangs never close so don't be surprised if you accidentally sing until sunrise.
Day 2: Noryangjin Fish Market, Hongdae Trick Eye Museum, Dalk Galbi
I'll be honest, I didn't love Noryangjin market. But, it's pretty crazy to see 800 different kinds of seafood in one place. Buy some and then have it cooked for you, or just eat some live octopus.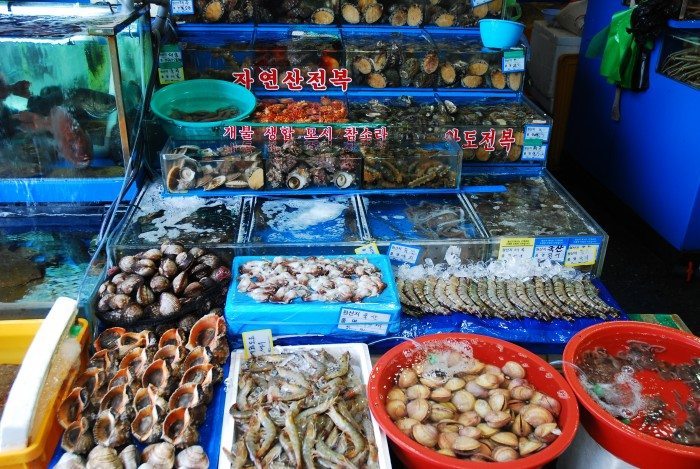 Make your way to Hongdae, the most famous university neighborhood. There is no shortage of great restaurants here and I highly recommend just walking around until you stumble upon something you like. Visit the Trick Eye Museum, take photos, and do some shopping at the endless stalls and boutiques. Once it's dinner time, find yourself some dalk galbi. Even though I recently found out our favorite place is actually just like Korean Applebee's, it's still delicious. Head out Exit 9 from Hongik Station, make a left, then a right and it's across from a bar called Vent. The chain is called 유가네 (Yooganae).
Day 3: Gwangjang Market, Dongdaemun, Cheonggyecheon Stream, Galmaegisal
Gwangjang market is the oldest market in Seoul, and it is by far my favorite. Head upstairs to find the largest selection of thrift store clothes you will ever see. Haggling is encouraged here. Downstairs, pull up a stool and get some bindaetteok, or mung bean pancakes. Don't forget to order a bottle of makggeoli and toast all the old Korean dudes drinking there.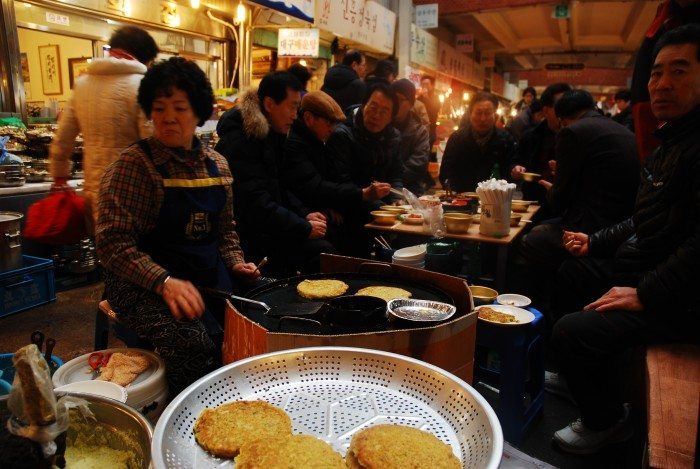 Walk from there to Dongdaemun and Cheonggyecheon Stream and maybe buy stuff or maybe don't, but there's no shortage of things to purchase. You should probably get some funky socks while you're in Korea. Because why not?When it comes time for dinner, make your way to Yangpyeong Station. A tiny gem of a restaurant is tucked inside this sleepy neighborhood. From Exit 1, make a right and walk down about a block. On your right will be a BBQ place with a picture of a samurai on the billboard. Hence why we call this place Samurai even though it has a real name. Order the kalmaegisal and thank me later.
Day 4: DMZ Tour, Bukchon Hanok Village, Insadong, Hyehwa, Shabu Shabu, Naksan Fortress Walk
Visiting the DMZ is a must-see for anyone visiting Seoul. It's truly an indescribable experience. If you can, do the full day USO tour that includes a visit to the JSA where you can actually step into North Korea! If the JSA tours are not operating because of a holiday, it's still worth it to do a half day tour.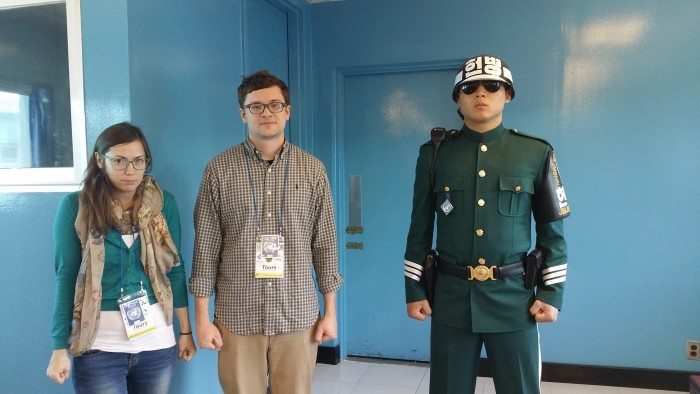 When you come back from the tour it will be time to check into your hanok guest house. A hanok is a traditional style ondol room where the floors are heated and you sleep right on them in a pile of blankets. Surprisingly comfy! There are dozens of these guest houses around the main palace, though we stayed in Raon Hanok Guesthouse. It was cozy, authentic, and the service was great. As you're right in the middle of Bukchon Hanok Village, it's very easy to explore before walking down Insa-dong Street. Here you will find endless amounts of gift shops stuffed with beautifully crafted pottery. Street food abounds so help yourself to some hottoek: a hot pancake filled with delicious cinnamon syrup. Yummm.If you're in a walking mood (which I almost always am), make your way towards Hyehwa Station. It's about a thirty minute walk through a university neighborhood. When you reach Exit 4 of the station, make a left and walk up about a block. There you will find the best shabu shabu in the whole wide world. It's in a basement next to a store called Art Box. And I actually know the name! Jung Sun Bon Shabu Suki! Delicious meats and veggies cook in broth right in front of your eyes before the dreamiest fresh udon noodles in the world are added. The dish is finished by adding a raw egg and rice and turning the leftover broth into a creamy porridge. It's so good.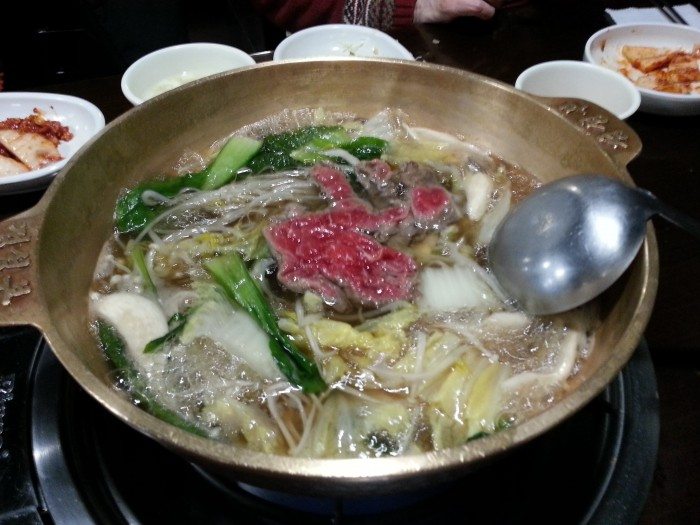 Just a few blocks from shabu shabu there is a short hike along one of Seoul's fortress walls. The walk up Naksan takes only about 15 minutes and the views over the city center at night are spectacular. Do it the Korean way and bring a bottle of makgeolli for the summit! Then treat yourself to a cab back to your guest house.
Day 5: Korean War Memorial, Itaewon, Gyeongbokgung Palace, Makgeolli Bar
Of all the museums in Seoul, the Korean War Memorial is one of the best. The history is detailed (although clearly dusted with a strong anti-Japanese sentiment) and the Korean War rooms take you step-by-step through the conflict with North Korea. After the museum, walk 15 minutes up the road from Samgakji Station towards Itaewon.
Itaewon is the foreigner's district and it is pretty much the only place in Seoul you can find cuisine from around the world. It's also a pretty big party once the sun sets. If you're craving some Western food, then stop at Suji's for brunch or Rye Post for the best damn sandwiches in Seoul. Itaewon is also the place to buy all those crappy souvenirs your friends will be expecting. Keychains, magnets, socks, and t-shirts are all sold from vendors lining the one main strip.
Definitely haggle if you're buying more than one item from the same stall.
Once you've had your fill of Itaewon, head back towards Gyeongbokgung Palace. This is the main palace of the Joseon Dynasty and by far the most visited. There are 5 main palaces in Seoul, but in my opinion this is the one to see. With over 7,700 rooms inside the sprawling palatial walls, it's an awesome sight, even with 10,000 other tourists milling about. If you're super into history, there is an integrated palace pass that gives you admission to all 5 palaces for ₩10,000 (about $9).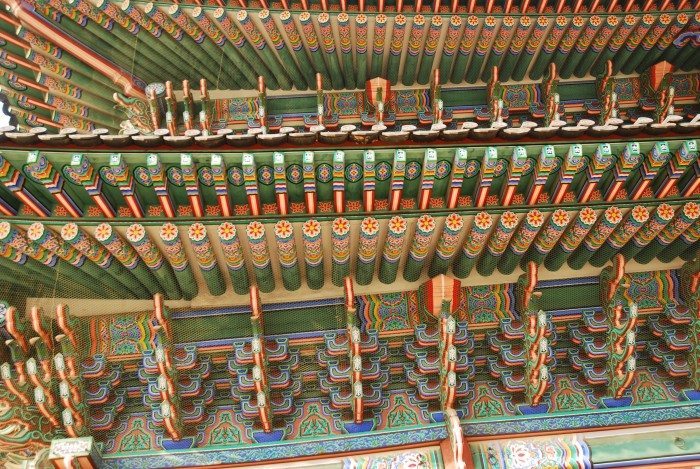 When the sun starts to set and it's time to get off your feet, head to your nearest makgeolli bar. What is this makgeolli I keep talking about? Makgeolli is a Korean rice beer available in myriad different flavors. On Insa-dong Street there is a great place on the 2nd floor with pine needle and quince makgeolli that are both surprisingly delicious. If you still feeling like venturing further out, head to Moon Jar in Gangnam, but make sure to make a reservation before you go. And if you're out in Gangnam after the sun sets, there are no shortage of places to party. For a rowdy night, try Monkey Beach in Apgujeong. A little more laid back? Try Woodstock. If you're in for the long haul, head to Pandora Cocktail Lounge. Unlimited drinks for $15? Get your liver ready. But don't stay out too late. You've got a busy day tomorrow!
Day 6: Gwanghwamun, Inwangsan, 63 Building, Kimbap Cheongguk, Hof drinking times.
Staying in the center of the city means easy access to one of the greatest (and easiest) hikes in Seoul. Head down to Gwanghwamun Square to check out the famous statue of King Sejong before heading to hike Inwangsan. Details for the hike can be found here, and it's easy enough that anyone can do it.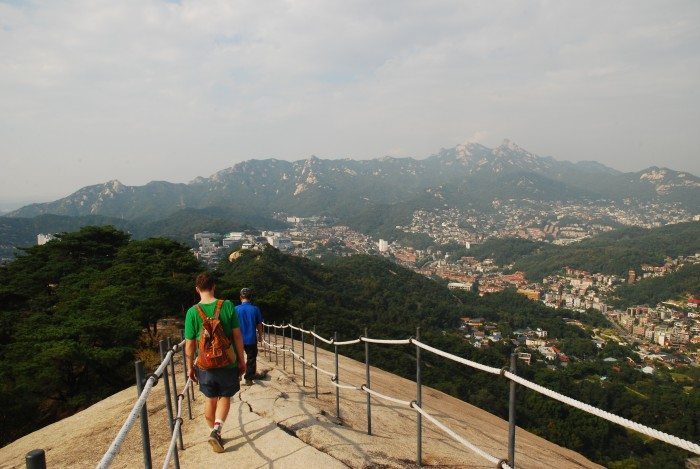 After the hike you may want to rest and relax and grab some lunch before heading to the 63 Building. Kimbap Cheongguk are tiny little restaurants that serve delicious traditional Korean dishes and everything is basically $5. You will recognize them by all the plastic food displayed in the window. They are scattered all over the city and it's almost impossible not to stumble upon one when you're walking around. Kimbap (김밥), kimchi jiggae (김치 찌개), bibimbap (비빔밥), and donkas (돈가스) are staples here.Now that you've eaten, it's time to head to Yeouinaru Station. The best time to go to the 63 Building is right before sunset so you can see the sun fading as the lights of the city begin to sparkle all around you. Have a coffee or a beer at the top and watch the magic happen.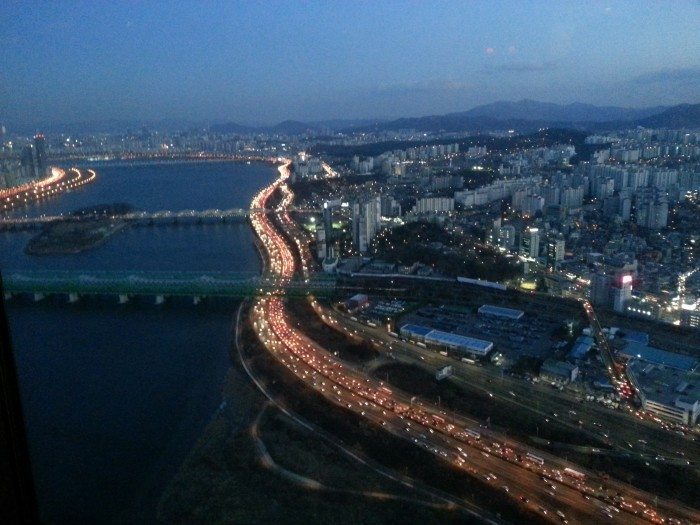 Once you've had your fill of the views, it's time to kick back Korean style. In almost any neighborhood you will find about a dozen hofs. Drinking establishments where you are expected to order food and it is always shared with the table. You can get twigim (fried things), sausages, noodle dishes, pajeon, and other yummy snacks. Plus you can play the awesome Korean drinking game, Titanic.If you decide two nights in a hanok is enough, you can always opt to stay in a Korean love motel for your last night. There is a whole strip of them in my neighborhood of Hwagok-dong and it will even have you closer to the airport in the morning! It's also a much more authentically Korean neighborhood than the rest of the touristy city you've been seeing all week. Love motels are usually only about ₩40,000 a night, so you'll be saving some money, though the rooms aren't always pristine.
Day 7: Haejangguk and Jimjilbang
OK, so you're probably a little hungover from all that drinking last night and you just want to relax a little before you catch your flight. Well there is no better hangover cure in Korea than ppyeo haejangguk(뼈해장국). It literally translates as "soup to chase away hangover" in Korean. One of my favorite places is right down the street from my house. A similar dish, gamjatang is shared among the table instead of served in individual bowls.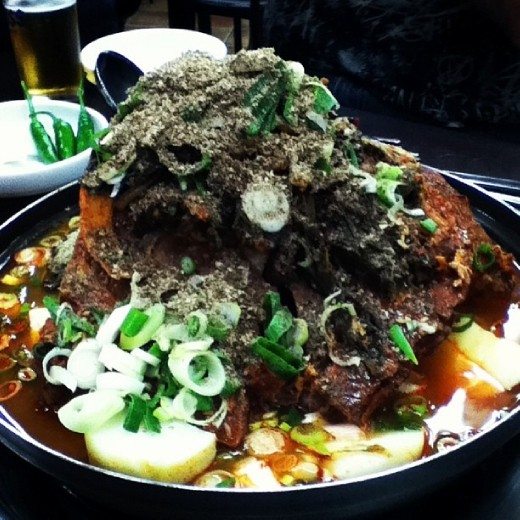 The last thing you must do before leaving Korea is go to a jimjilbang. These nude spas may seem strange to Westerners at first, but trust me, it ain't no thang. Check out this post to answer any questions you may have about the experience. You can also stay overnight in a jimjilbang for just a couple extra bucks, so it's a great way to save on accommodation!
Once you're thoroughly relaxed, head to the airport and make your way to wherever it is you're going next! If you have any questions about visiting Seoul, or the rest of Korea, don't hesitate to ask!
FYI: All links to Agoda on my site are affiliate links, which means I make a lil money if you book through them, but it costs you nothing extra! Which is awesome for everyone because Agoda is the best booking site ever.