When you're feeling isolated, homesick, and tired of kimchi, there's only one place in Seoul that you should go: Itaewon (이태원). Itaewon is the foreigner's district located right in the center of the city north of the river on Line 6. It is where you need to go if you need anything Koreans don't have, like deodorant or Mexican restaurants. Many international cities like Tokyo or Washington D.C. may have all varieties of ethnic food littered and tucked around each corner of the map. But in Seoul they decided it was best to put it all in one place.
If you live on the southwest side of Seoul like we do, seeing other expats is a rarity. I maybe catch a glimpse of one or two foreigners each day in the hours I spend on the subway. I look at them as if I'm supposed to know them and wait for them to smile. They never do. Probably because we are complete strangers. But as you walk up the stairs at Exit 3 of Noksapyeong station, a different feeling will envelope you. You will see white people. Everywhere. And black people, and brown people too. You will hear other languages. You will see almost as many foreign faces as Korean ones. And many of the Korean faces will be speaking English to entice you into their stores. It is a wholly different experience than anywhere else in Korea.
My husband and I don't go to Itaewon often, but when we do we almost inevitably end up at the same three places. Because they are the best three places. This time we were going for brunch (the meal I miss most from home) and there is no better place to do that then at Suji's.
Suji's
Suji's is a NY style deli that serves brunch all day on the weekends, and basically everything is amazing. The eggs benedict always come out perfectly poached, the bacon still a little chewy, just the way I like it, and the homemade cream cheeses for the bagels are orgasmic. Not to mention the mimosas and spicy bloody marys. Itaewon is the one place where you can freely speak English to servers at restaurants without fear. Suji's is a place that makes me feel like I'm home and this weekend was no different. I opted to have a bagel with scallion cream cheese and a side of bacon, which I put on the bagel. Then I got a bowl of chili because why not. Also a bloody mary and a mimosa. $26 was spent and another $32 for Hudson's eggs benedict and bloody marys. We were off and running.
Every trip to Itaewon must also include an errand that would be hard to accomplish anywhere else. This Saturday it was getting some clothes tailored and heading to the international food market. Sure, it's manageable to get things hemmed without knowing Korean. But since we have a guy there we thought, 'what the hell.' You can get anything tailored in Itaewon as there are countless custom-made suit shops lining the main drag. We dropped our pants off at Jokeman (yes, he tells a free joke with each tailoring job), paid him $16 to hem two pairs of pants same-day (what?), listened to him lecture us on why persimmons and kimchi cure ebola, and had three hours to kill. So we headed to the next place we invariably go in Itaewon: Sam Ryan's.
Sam Ryan's
Sam Ryan's is an unassuming bar that isn't particularly special for any reason. Except that their drinks are about $2 cheaper than every other bar in Itaewon. Rail cocktails are only $4 and Jameson is only $5! A double will run you $7 and $8, respectively. So with three hours to kill, we posted up at the bar and spent the afternoon laughing at inane things and downing our double cocktails like the professionals that we are. If you're hungry, they've got some respectable bar food as well. Three double Jamesons and three double G&Ts later, and we were $45 poorer.
By the time Hudson's pants were ready to be picked up, we had already worked up a bit of an appetite. This brings me to my absolute favorite place in Itaewon: Rye Post.


Rye Post
Rye Post used to be an amazing sandwich shop impossibly tucked in an alley that no one would ever find except for accidentally stumbling upon it, which is exactly how we found it. They had a couple tables inside, two outside, and the best sandwiches I have eaten in Korea. The bread is soft and freshly baked, and the ingredients are top notch. Not to mention they actually have a legit Philly Cheesesteak! And a bacon avocado sandwich. Oh, how I miss avocado. Much to our surprise this weekend, Rye Post had moved from their tiny corner of obscurity up to a huge new space on the main strip! Itaewon's best kept secret is out! Naturally, we had to go in to support our favorite sandwich shop. They are also now boasting craft beers on draft, another thing I miss desperately about home. So we ordered one cheesesteak to share and a 10% ABV imperial stout (I can't recall the brewery). Reveling in the cheesy deliciousness and smooth, rich stout, all was right with the world. Until we went to pay and it came to $22. I'm sorry, what? As their sandwiches are only $9 that means, you guessed it, it was a $13 beer. Maybe we'll stick to Cass next time.
With our usual Itaewon tour almost complete, there was only one place left to go. We had to go get the one food that makes me feel more at home than anything else. Scared when the first market was out of this perennial favorite, we scoured two more markets before we found a few straggling boxes hiding on a hard-to-see shelf. At last. Mission accomplished: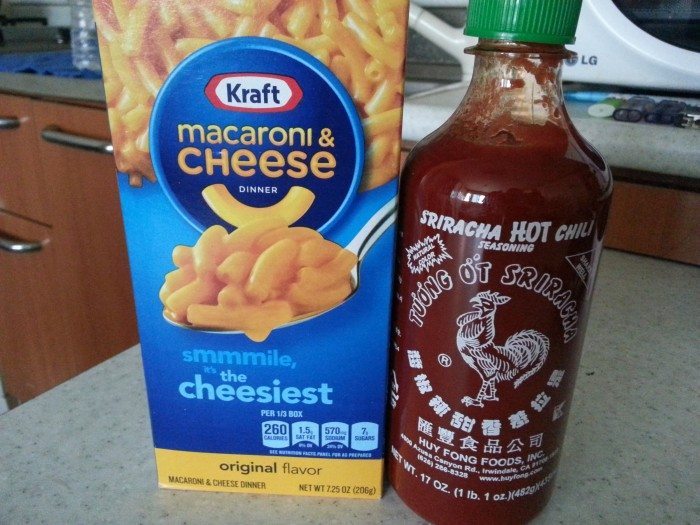 Kraft Macaroni and Cheese and Sriracha! Dropping $14 on the last four boxes that they had left, $7 on the Sriracha, and another $7 on a single stick of deodorant, we made our way home happy, full, and $156 poorer than when we left.
The key to going to Itaewon is to go rarely, to always bring $100 per person, and to get the hell out of there before nightfall. Otherwise that $160 will spiral into $300 before you know it.
Do you guys have any Itaewon gems or secrets? Share them in the comments below!