September and October are two of the most perfect times of the year to go hiking in Seoul. We, however, decided to hike Gwanaksan (관악산) at the end of June when the temperatures are high and the humidity is even higher. Hudson and I met two of our friends at Seoul National University Station and hopped in a taxi to the base of the mountain. You can also hop on any bus headed to Seoul University (서울대입구). It's only about a five minute cab ride so the cost was no different when split among 4 people. From where the cab dropped us off (we just said, "Gwanaksan, juseo") it was pretty easy to see exactly where we were supposed to go. We loaded up on snacks and soju for the summit and headed towards the mountain.
Most mountains in Seoul are equipped with large maps at the base to help you choose which trail you're going to do. Though I have no idea which trail it is we ended up taking. I can say that it followed the stream all the way to the top. As we climbed, there were plenty of people having lunch in the mostly dry river bed, many with their shoes off dipping their feet in the little bit of water that was flowing. It was a beautiful day for it.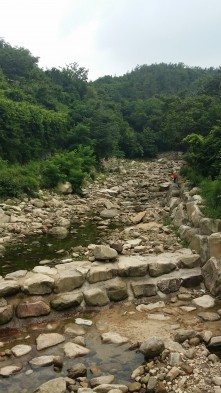 As we hiked up the relatively busy trail, we saw more and more people lounging on large flat rocks and just enjoying the afternoon. We were determined, however and reached the summit in about two hours. Once at the top, we followed the ridge up to the weather station that looks like Epcot Center. There was a wide slope there perfect for popping a squat and enjoying our summit soju.
After about thirty minutes resting and enjoying the views, we were ready to begin our descent. On the other side of the mountain we found a steep path descending with thick chains for support and a sheer drop behind you. Of course, this was the way we decided to go. In my younger days, I was never scared of heights at all, but as I grow older, my own mortality seems to be kicking in. The ledges below for your feet to land were very narrow, and at only 5'3″ tall, my foot was often dangling trying to find the next step. Of course the boys and my tall friend had no problems with this.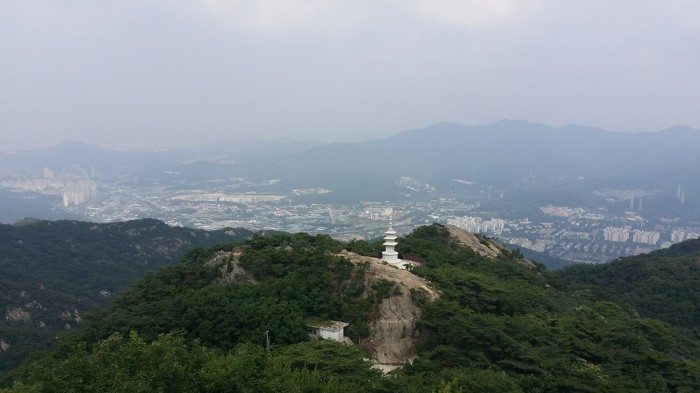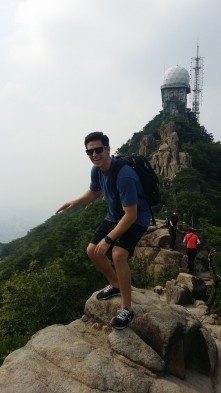 We continued on down the much more adventurous path, which was completely empty save for one older Korean couple relaxing on a rock. At the sight of four foreigners on the difficult trail, they asked us to stop and take pictures with them. Koreans just love taking photos with white people. As we continued on, it became difficult to tell which way the path was supposed to go. We often had several ways that seemed like options, only to double back and try the other way. We could see Seoul Nat'l University as we descended, so we knew we were headed the right way.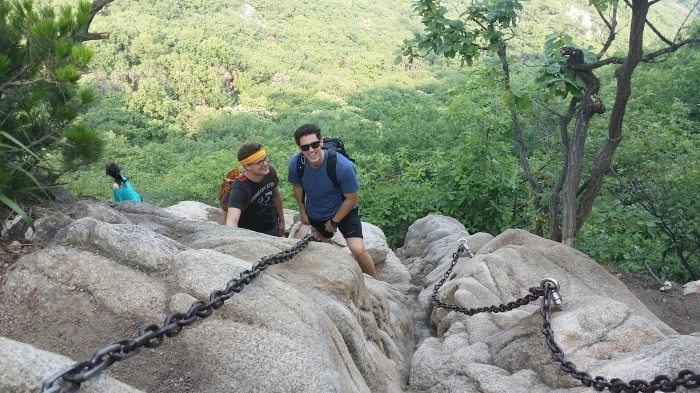 When we finally popped out on the street, it was ON campus. Literally. Looking back at the entrance to the trail it was simply a two-foot wide clearing into the forest with three stairs leading up to it. I'm not sure anyone ever took that trail to the top before, as I don't know how they ever would have found it. As it was already getting late and our friends had to get back to Cheong-ju, we took a taxi back to the station and said our goodbyes.
So far Gwanaksan has been one of my favorite hikes in Seoul. It's challenging, but not expert, the views are amazing, and it's relatively close to the center of the city. Also, anything that pushes my comfort level including ropes and chains hanging you over deathly narrow cliffs, gets bonus points in my book. I would definitely come here again, though I might wait until after the rainy season so the river has a little more power to it.
Got any questions or tips on hiking Gwanaksan? Leave 'em in the comments below!