After a long weekend of heavy drinking and hours of sun on Incheon's west coast beaches there is only one way to properly relax in Korea: Jimjilbang. For those of you unfamiliar with the concept, a Jimjilbang is a Korean style bathhouse and spa that is incredibly popular with locals and tourists alike. For around ₩10,000 ($10USD) you receive a locker key, some ugly pajamas, and two tiny towels. Bid adieu to your friends of the opposite sex, and head into the gender-segregated locker rooms.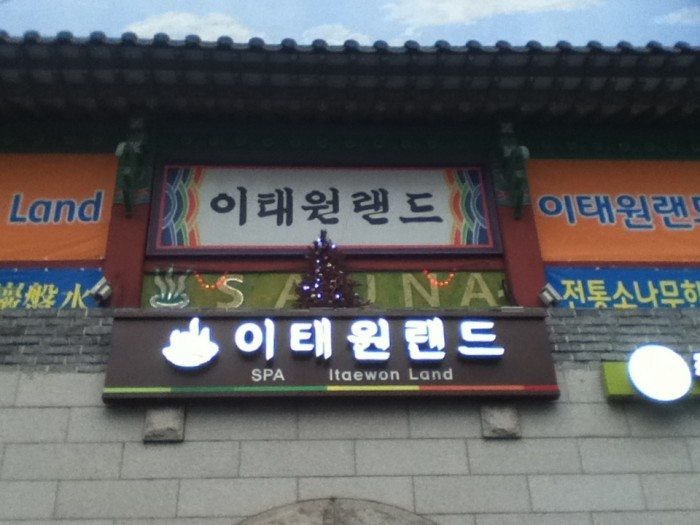 First things first. Put your shoes in the shoe-sized locker. Please keep your clothes on at this juncture. Once you make your way back into the naked locker rooms, throw everything except one of your tiny towels and the key into the locker and head into the same-sex soaking rooms. Be sure to rinse off in one of the showers before you submerge. It is incredibly rude to jump in with all your outside greases still slick on your skin. Now that you are clean, dip your toes into the water of the varying pools. One is so hot you can barely submerge a foot, the kind of intense heat that almost feels like freezing to your shocked nerves. Another is a tepid bath, another gives rise to a wave of goosebumps across your flesh and ends in an involuntary shudder. Another is filled with green tea or rose water, and all are filled with Korean women of all ages from child to ajjima without the slightest sense of self-consciousness. Embrace your nudity here because no one else cares. One of the the most liberating parts of the experience is to be in a place that places no emphasis on such things and frees you from the sense of silent judgments being passed. They will still think it's weird that you're foreign, but if you're in Korea you're used to that by now.
I personally recommend doing the hottest one first and staying in as long as you can stand it. Then go immediately to the coldest pool, which will suddenly seem like the most perfect temperature of any water that has ever graced your skin. Finish in the lukewarm pool to even your body temperature back out. Repeat if you like, soak if you like, chat if you like. Explore any other temperatures that might be available. Jimjilbang is about rejuvenation and there is no wrong way to do it (except with clothes on, or being disruptively loud in such a serene place). When you feel sufficiently limbered, head back to the lockers, retrieve your hideous pajamas, and head into the coed section of the spa. You can also stop in one of the painfully hot, yet delightfully scented saunas before donning said pajamas. The choice is up to you.
Once in the main room you will find a scattering of tiny doors often with temperatures listed above them. These range from below freezing "refrigerator rooms" to tiny clay people kilns so hot that your lungs burn with each careful, slow breath that you take. There wasn't a temperature on ours, but it had to be at least 50°C. Many of these rooms you must enter on your hands and knees. Small wooden blocks are provided as head rests, so lie down and let your body absorb the heat. The mat-covered floor will scorch your uncovered skin. Feel each bead of sweat as it condenses on your face and neck and slides down your chest or shoulders.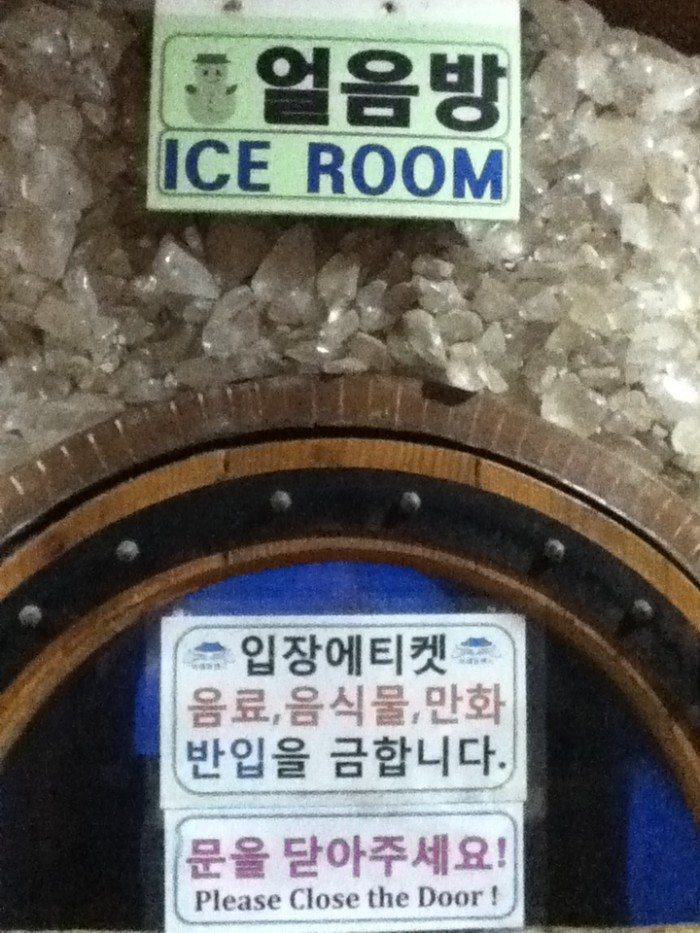 Try to breathe deeply and fail as the scorching air teases your thirsty lungs. Lie still. Lie silent. Endure. Endure as long as you can and then stay five minutes longer. It may become so intense you begin involuntarily chanting to assist whatever spiritual awakening you may be experiencing. Or you may think you are dying. When you are almost positive that your body is going to expand with the heat and float away or explode, then head back out into the grand hall, and maybe into the cold room to experience the first time in your life that standing in below freezing temperatures in ugly pajamas feels absolutely marvelous.
Each of the rooms usually carries a theme, a natural element that adds to the scents and benefits of the sweat soak. There will be a salt room, a red clay room, a pine room, a charcoal room. Experience them all. Push your body past the boundaries of what you ever thought you could stand. Walk through a desert before diving into the Arctic Ocean. When you think you're done, do it again.
If Jimjilbang has worn you out, if your knees feel like Gumby's and your arms swing loose along your side as if attached by a single string, you are doing it right. You can pay ₩2,000 for a massage chair, go workout on the strange array of available equipment, or just find a mat on the floor and have a rest. You are more than welcome to spend the night in this position and it is a great option for broke backpackers looking for a cheap place to stay and a cultural experience all wrapped in one delightfully cheap package. If you have some energy yet to be sapped, feel free to grab a beer or some food and relax at your own pace in the open common area. Or maybe a private massage or mani/pedi? Or maybe go enjoy a smoke break in the small cigarette lounge. Sweat out every toxin you imbibed the night before, and then imbibe some more. Jimjilbang is the perfect way to wash a week away because it is only everything you want at the pace you want to do it. Have a beer, have a smoke, have a sweat, have a nap. Have a time that is uniquely yours. But most of all, revel in the freedom your limbs will feel when you are done. And for less than ten bucks there is no better way to truly relax in Korea.
How To Get There
For the Itaewon Spa get off at Exit 3 from the Itaewon station and head straight once you hit the street. Keep your eyes peeled for the massively steep staircase to your right. The rest is up to you.
(Pardon all pictures were taken from my iPod touch in the interest of discretion)