Ok, ok, I know it's been like a month (fine, two) since I posted anything. But I've been very distracted by saying farewells to good friends and watching Christmas movies all day under the covers. It's cold out there! But the husband and I finally donned our winter gear just before Christmas and headed out to the west end of Line 3: Daehwa. For the record, we went out to Ogeum at the east end a couple months ago, but just to transfer from the 5. Line 3 stretches all the way from the southeast corner of Seoul through Gangnam, across the river, through the city center, past Inwangsan (a great hike you can read about here), flies by Bukhansan, over the northwest border of the city, and continues westerly for quite a ways. It's truly an epic journey from end to end.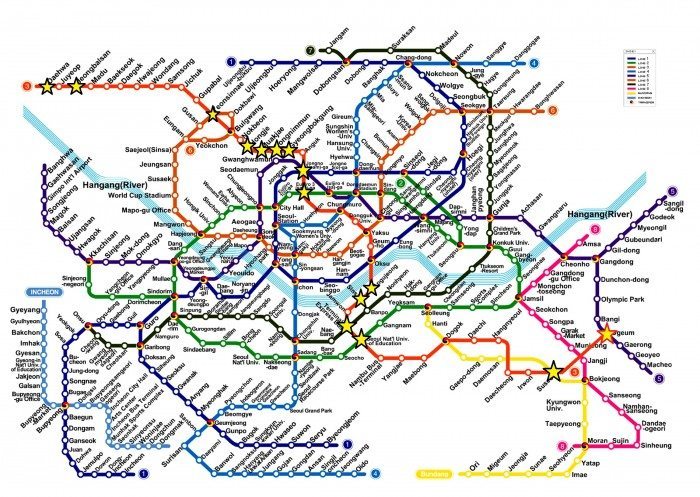 It's impossible to know what to expect when you take a 1 hour 47 minute train ride in Seoul. Hudson and I had been enjoying some breakfast cocktails all morning and by the time we actually got on the train (like 4pm?) we were ready for a nap. So we laid our heads on one another and woke up just before we arrived at the end of the line. Daehwa station was massive, but mostly empty, and after looking at the map it didn't seem like we were going to find much. The only things listed were a few high schools in the area. We were expecting a quiet, residential neighborhood, reminiscent of Sangil-dong at the end of of Line 5. Boy, were we wrong.
When we exited the subway station we were presented with a huge, vibrant, brightly lit strip. Coffee shops, boutiques, pizza places, and an inexplicable number of glasses shops lined the clean, modern street. The buildings were all tall, though not too tall. Just maybe 6-10 floors. The whole area seemed as if it were planned to be uniformly pleasing to the eye, and it probably was. The brisk winter air bit at our noses and as we began to walk I noticed a distinct crunching beneath my feet. SNOW! It's already snowed several times in Seoul, but none of it has stuck and most of it has turned to rain the second it's hit the street. But up in Daehwa there was at least an inch or two of white, crunchy snow, just waiting to be stepped in. It was glorious.
Hudson and I walked along for a bit before we decided to stop for coffee. We needed something to pour our whiskey in, after all. We wandered into a Dunkin' Donuts and ordered two drip coffees. If you don't know this about Korea, they don't know anything about drip coffee. Espressos, Americanos, lattes– all fine. But order a regular cup of coffee and they think you're crazy. Forget the fact that Dunkin' Donuts is famous for their delicious drip coffees. So we wait a few minutes while they brew a fresh batch. When it's ready, I see a carton of milk behind the counter and I ask, "ooyoo, juseo?" She brings the open carton over to me and right before she is about to pour some in, she says "I'm sorry, we don't do that here," in perfect English and promptly takes it away. She then brings me over a single serving packet of cream instead. What just happened? You don't do what? Give away milk? Allow patrons to choose what they put in their coffee? Whatever, Korea. Confused, we took our whiskey coffees on the road and continued walking.
A few sips in we both realized this was literally the worst cup of coffee we have ever had. Tasted like one scoop of grounds and 10 cups of water. As far as we know that may have been the first pot of drip coffee that girl ever had to make and no one bothered to teach her how. But, since our cups were now full of whiskey, we decided to power on through with our hot brown water. As we approached the penultimate stop on line 3 (we tend to follow the tracks above ground) we thought about getting on, but decided to go one further. There was something inexplicably charming and different about Daehwa. You got the distinct feeling you weren't in Seoul, which is refreshing, because most of Seoul is depressingly homogeneous when it comes to architecture.
Unable to finish our horrendous coffees, we stopped outside a GS Mart (our favorite convenience store) and picked up a soda to mix with the last of our whiskey. We stood on the corner with gloves on our icy hands and chatted as we watched people walking by, bundled up in the large puffy coats basically everyone here wears. We talked until our legs started to freeze and decided to keep moving to warm them up. We had dinner plans in Hongdae so we wouldn't be eating in Daehwa. Most of the options seemed to be American fast food anyway. Instead, we continued walking and enjoyed the sparkle of various Christmas lights adorning the leafless trees speckling the sidewalk. What a charming place!
As we approached the next stop and decided we were too cold to keep walking, we had one last cigarette outside the Jeongbalsan Station. Much to our surprise, a band suddenly materialized and started singing what I imagine were Korean Christmas songs. Four girls were bundled up from head to toe and one poor dude was playing the guitar with his bare fingers exposed to the below zero temps. Man, we felt bad for that dude. As we finished our cigarettes and headed back into the relative warmth of the subway station, we were happy to have found Daehwa and Ilsan-dong and excited to see what else the Seoul subway would have in store for us. Sometimes the best days are spent laughing over a terrible cup of coffee and freezing your ass off while standing outside a convenience store sipping whiskey from a Coke bottle. Life is spectacular that way sometimes.
This past Saturday we finally tackled the behemoth: the southern end of Line 1, more than 100km from Seoul. You will not believe what we found when we got there. Check back next week to find out!
A big thank you to my handsome hubby Huddy for modeling in all of my blurry, terrible photos. He's a good sport, that one. Now here's a list of all the stops we managed to see on the Great Line 3:
Daehwa
Jeongbalsan
Yeonsinnae
Hongje
Muakjae
Dongnimmun
Gyeongbokgung
Jongro 3-ga
Euljiro 3-ga
Apgujeong
Sinsa
Express Bus Terminal
Seoul Nat'l University of Education
Suseo
Ogeum