If you're in Muizenberg (pronounced MYOO-zen-berg) in the summer, congratulations…you already know how to spend a day at the beach. You can go swimming in the turquoise waves of the Indian Ocean, lie on the sand, take surfing lessons, read a book, or just get eaten by a shark like the locals do.
Visiting Muizenberg in winter, however, might seem like the last place in Cape Town you want to go. Who goes to the beach in the winter? Well, first of all, winter here doesn't mean mountains of snow. Winter in Cape Town means brisk but lovely days (think mid-60s temps) and chilly nights (lows in the high-40s to low 50s). Summer in Muizenberg means the beach is painfully crowded and competition for waves is intense. With chilly winter days, you almost have the place to yourself. Of course, no matter what time of year it is, the surfers will always be out.
Muizenberg Night Market
If renting a wetsuit and hitting the waves isn't your chilly weather cup of tea, there is still so much more to do in this hip, chill surf town. If you happen to be in Muizenberg on a Friday night, hit up the Bluebird Garage Market. Cape Town is known for their eclectic markets scattered all over the city, only operating on certain days and certain times. These are no ordinary flea markets…you will find great cheap wines, live music, gourmet food, local craft beers, and tons of handmade artisan goods. I have various markets dabbled across my calendar for the next three months to make sure I don't miss any. Some of them only pop up once every few months so you gotta stay diligent. Lucky for you, the Bluebird Garage Market stays open all year long.
Hiking Bailey's Kloof + Muizenberg Cave
If you can't make it to Muizenberg on a Friday night, you can hike Bailey's Kloof at any time of day. Easily accessible from Boyes Drive, this hike is one of my favorite short hikes in Cape Town. For some reason on Google it is "Balley's Kloof," so it won't come up if you search it.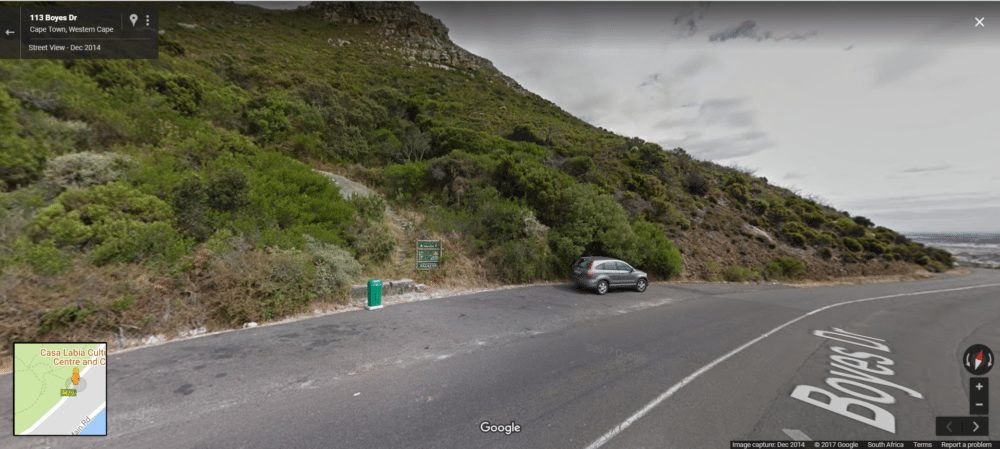 From Boyes Rd., the hike is initially steep and somewhat strenuous, climbing over 200 tall, stone stairs in a quick ascent to the top. But once you're up there, the mountain basically plateaus into the Mimetes Valley covered in fynbos, flowering mimetes, and stereotypically babbling brooks in the winter. Follow the gravel trail to the left to where it splits at Nellie's Pool. This is the opposite direction that the map tells you to go, but I think it is the better choice. A short hike up towards St. James peak will have you stumble upon Muizenberg Cave. I've never met a cave I didn't like, and this one was no exception.
We were worried we might miss it on the trail, but trust me–you won't. The huge entrance leads to many smaller corners we were a little too scared to explore considering both of our headlamps were almost out of batteries. To your right when you enter the cave is a sharp, 6m drop-off into a crevasse that could easily lead to some kind of 127-hours nightmare scenario, so mind your step.
After the cave, St. James peak isn't much further and offers overlooks that continuously surprise as you ascend. With near constant views of False Bay, eventually Kalk bay makes its way into your line of sight, and then, even Hout Bay on the other side of the peninsula is visible across the valley. Seriously, this peninsula just won't stop impressing me. Scramble around on the plateau for a while, and don't forget to keep looking around—there is beauty in every direction. If you follow the trail up to St. James peak, it will loop back down around to the stairs you took up in the first place, and back to where you parked your car in the little turnoff. All-in-all, the hike took us about two hours with plenty of stops, picture taking, and time exploring the cave.
The Famous Colorful Houses of Muizenberg
Of course no trip to Muizenberg is complete without seeing the famous colorful beach shacks lined up neatly on the shore. I was surprised at how run-down they were, but they make for a pretty damn good Instagram no matter what. As the winter wind was blowing, we spent just a few minutes on the beach before heading to reward ourselves with a beer or three.
Best Bar in Muizenberg!?
No beer beats a post-hike beer! We were planning on stopping in a place called Gaslight Cafe, but alas, in winter in a seaside town, many shops are closed and many hold very strange hours. We ended up heading to the Striped Horse which appeared to be the best (only?) bar open in town. Even though it was literally our only option, we were lucky that it was also an awesome spot. The bar brews its own beers (they were delish) and the vibe is sort of a classy-grungy-hipster-surfer mesh which I thoroughly appreciated. Cozy couches and heaters kept the inside nice and toasty, while the patio offers stunning views of the coast and even a few little rainbow houses in sight. We will definitely be returning.
Within the span of a single day, I completely fell in love with Muizenberg in winter and I can't wait to see what it's like in the summer! It moved very high up on our list of potential neighborhoods to move to next year. It's still close to Constantia where Hudson's job is, super close to the adorable coastal towns Of Kalk Bay and St. James (also on the potential list), and doesn't have the bourgie suburban feeling of our current neighborhood. The chill barefoot surfer vibe is way more in line with our style than super-rich soccer moms. Also, did I mention THE BEACH?
Stay tuned for next week as I explore Bay Harbour Market and Hout Bay + another great hike!!!