A few days ago, my brand new husband and I returned from an almost three week wedding/honeymoon trip in the Philippines. We did not, however, do the traditional "get a luxury hotel on a fancy beach and drink mai tais for three weeks" trip. Instead, this Philippines itinerary involved traveling almost constantly, having the opportunity to visit 14 islands in those 20 days. Don't have a panic attack, we stayed on only 6 of those 14 islands. The rest were visited either in transit or on the ubiquitous island hopping tours offered around the country. 20 days is also perfect for a Philippines itinerary since you receive a 3 week visa upon entry and save yourself the trouble of embassies and visa costs.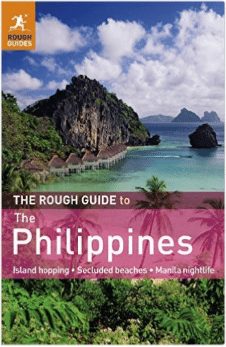 We don't always buy guide books because honestly, you don't always need them. But for this trip we knew we would be on a lot of boats and without cell service and still wanted to be able to plan our next move. Especially when you're moving around so much! My go-to guide book brand is Rough Guides, and I've always preferred them over Lonely Planet. We used the 2011 version you can find here and it was great, but I can't speak to the newer 2014 version that was released.
Planning the trip wasn't easy (in fact it took many months) and it didn't go so smoothly at times (we spent over $300 on flights we never took). But since I'm so nice I'm gonna go ahead and plan your Philippines itinerary for your three week trip for free and help you avoid some of the costly mistakes we made.
Day 1-5: Boracay
Travel Time: 2-3 hours
Flight Manila to Caticlan: 1 hour (₱2000)
Ferry to Boracay: 15-20 minutes (₱25)
Tricycle to Hotel: 5-30 minutes (₱100)
Yes, Boracay is the most touristy destination in the Philippines. But the thing is, there's a reason: it's easily the most perfect beach we encountered throughout our entire trip. The sand feels like you're walking in a bag of flour, the water is perfectly clear, it gets deep pretty quickly, and there isn't a single malignant object waiting to stab or scrape your feet. The sunsets are unimaginably beautiful and past station 3 where we were staying, there weren't even that many people. Not to mention the phosphorescent plankton at night. This is where we chose to have our wedding ceremony and I am positive now we made the right choice. If you head up towards station 2 things get louder and MUCH more touristy so I highly recommend staying at one quiet end or the other if you're truly looking for an island paradise.
We made the mistake of flying into Kalibo and having to catch the bus to the ferry to the trike. While flying into Caticlan is a little more expensive, trust me, it's worth it. There is already an insane amount of travel necessary to get anywhere in the Philippines, so cut it back wherever you can. And if you can ever fly Cebu Pacific over Air Asia, do that too. And if you can manage to skip a layover in Manila entirely, DEFINITELY do that. If you do choose to fly into Kalibo, don't worry about pre-booking transfers. You can get the whole bus/ferry combo package for about ₱200. You will have to pay environmental fees at the terminal, however.
Day 6-7: Bohol
Travel Time: 6+ hours depending on layovers
Trike to Ferry Port: 5-30 minutes (₱100)
Ferry to Caticlan: 15 minutes (₱25)
Flight Caticlan to Cebu: 1 hour (₱2000)
Taxi to Ferry Terminal: 35 minutes (₱475 for 4 people)
Ferry to Tagbiliran: 2 hours (₱525)
Taxi to Alona Beach: 45 minutes (₱500 for 4 people)
There are a lot of places to visit in Cebu and Bohol. I didn't particularly find Alona Beach that nice. We stayed at the Lost Horizon Beach Dive Resort , which was lovely, had good food, and nice rooms. There was some better swimming at the far east end of the beach, but most of the main section is narrow and the water is littered with Bangka boats close to shore. I will say that renting a motorbike from Alona and exploring Panglao and Bohol is easily the best way to see this area. The bikes cost just 300 pesos per day, the roads are good (if you stay on the main ones), and you can see the tarsiers and the chocolate hills in just an afternoon.
Off the main strip from Alona beach towards the main road is also an amazing Italian restaurant called Giuseppe. Go there and order everything. It's all amazing.
Day 8-12: Oslob/Moalboal
Travel Time: 3-4 hours
Hire a boat from Panglao to Oslob: 2 hours (₱1000)
Van/Taxi from Oslob to Moalboal: 1 hour 30 minutes
You can also get to Moalboal by taking a taxi back to the ferry, taking the ferry back to Cebu and taking a 3 hour taxi, but I don't really recommend that. There are daily boat tours that go from Alona beach to Oslob to swim with the whale sharks. DO THIS. It is an unforgettable experience and worth the 1000 peso entrance fee. These tours usually return to Panglao in the afternoon, but just stay on Cebu rather than returning to Panglao and hire a car to Moalboal. Trust me on this one.
We made our biggest mistake here in hiring a private boat trip from a guy named Norman. With an 11am flight from Cebu-Mactan he promised to have a van waiting at Oslob to get us to the airport by 10. The boat was 2 hours late to Oslob, there was never a van waiting, and we ended up having to pay an extra 2000 pesos for a van we had already paid 3000 pesos to be there. Don't do this. And don't make any deals with anyone named Norman.
Moalboal is a laidback town known for its diving. The beach on the main strip at Panagsama isn't anything to write home about, but you can see sea turtles while snorkeling here. Find a nice place to stay and go eat at Chili Bar. Then go there for drinks later. And then go back the next night. The night after that go to Lantaw Asian Restaurant and get the adobo. Actually, get any of the Filipino dishes there. Best adobo I had in the Philippines.
Rent some motorbikes from Moalboal and drive the 30 minutes to Kawasana Falls. It's spectacular. Also, if you want the white sandy beach experience you can head up to White Beach just 15 min north of Panagsama. Soft sand, beautiful views and all that jazz.
Day 12-15: Coron
Travel Time: 6+ hours
Taxi/van from Moalboal to Cebu Mactan: 3 hours (₱2500)
Flight Cebu to Busuanga: 1 hour 30 minutes (₱3500)
Airport transfer to Coron Town: 40 minutes (₱150)
If you have the money to spend, I highly recommend splurging on the Asia Grand View Hotel. It was by far the nicest place we stayed. At $113 a night it wasn't cheap, but the amenities and the property were well worth it. The staff was the friendliest and most attentive throughout our entire stay. There isn't a beach in Coron Town so if you want to lie by the water you've gotta stay on one of the private island resorts in the bay. We opted for this resort on Chindonan island but I don't really recommend it. While the island was beautiful and the owners friendly, the rooms were a bit overpriced for being basically glamping rooms without A/C or anything. The boat tour we went on didn't include any food (really?) so we were so hungry that we opted to head back early. We also didn't bring supplies to the island and drinks were VERY expensive at the hotel bar. We actually ran up the biggest tab they'd ever seen in the history of the resort. Wish we'd had a few bottles of rum stashed in our bags instead. We did go diving with them and saw an awesome wreck, so if diving is your thing, these resorts can be worth it. If you just want to see some pretty islands, you can hire a private bangka to take you on a Coron Island tour and you can spend as long as you like on beautiful white beaches then.
If you find yourself in Coron Town, head to No Name Bar and get a burger. Also take advantage of their 40 peso rum and cokes for happy hour. Secret: if you order just rum on the rocks then you get two shots instead of one.
Day 15-20: El Nido
Travel Time: 8+ hours
Trike to Ferry Port: 20 minutes (₱200)
Boat from Coron to El Nido: 7-8 hours (₱1800)
Palawan is known as the last frontier of the Philippines, and for good reason. It's incredibly remote and stunningly beautiful. Before you get to El Nido, make a reservation at Rosanna's Pension. It's a small place with just a few rooms but it's gorgeous, well-maintained, Rosanna is charming and helpful, and the rooms are right on the small beach at El Nido. At ₱1500 per night for two people, it's not too cheap but not too expensive either. The beach isn't great for swimming, but not bad for taking a dip. Grab a trike up to Nacpan Beach to spend a day on the second most beautiful beach we saw after Boracay. I don't recommend motor bikes here unless you're highly experienced as the road to Nacpan is terrifyingly rocky, sandy, and muddy in places. When you get back to El Nido, head to Lonesome Carabao for the best Mexican food I've found in Asia.
Spend a few days in El Nido and then grab a trike up to Marimegmeg beach. It's only about 6km from El Nido and it's a proper beach with soft sand and beautiful views. The water is pretty shallow and a little rocky at low tide, but it's still nice for swimming. We stayed at the Orange Pearl Beach Resort which offered little beachfront cabanas for extremely reasonable prices. We drank mango fruit shakes on the beach all day and life was just perfect.
Once you've had your fill of scuba diving, island hopping, and beach bumming, there are 3 ways to get out of El Nido. One is a boat ride back to Coron. The other is a 7 hour overland van to Puerto Princesa and then a plane. The third and best way is a direct flight to Manila from El Nido Airport. Fares can be purchased at ArtCafe in El Nido town proper for ₱5000-₱6750, depending on the time. There are 3 flights daily. Saving the 7 hours in a van and an overnight layover in PP was well worth the money for us.
And there you have it! Over the next few weeks I will be posting detailed looks into each of the destinations mentioned above. If you have any specific questions, please feel free to leave them in the comments below!
Happy Travels!