Majestic, breathtaking, spectacular, transformative, humbling: all the cliched adjectives one uses to describe a mountain range…are totally fucking true about the Tetons. Before I jump in to this post I will say that Grand Teton National Park quickly jumped to my second favorite National Park in the country. Glacier National Park is first because: Montana. If you go to Montana and don't fall in love, we can't be friends. Yosemite may have beaten out Grand Teton, but that's a discussion for another day.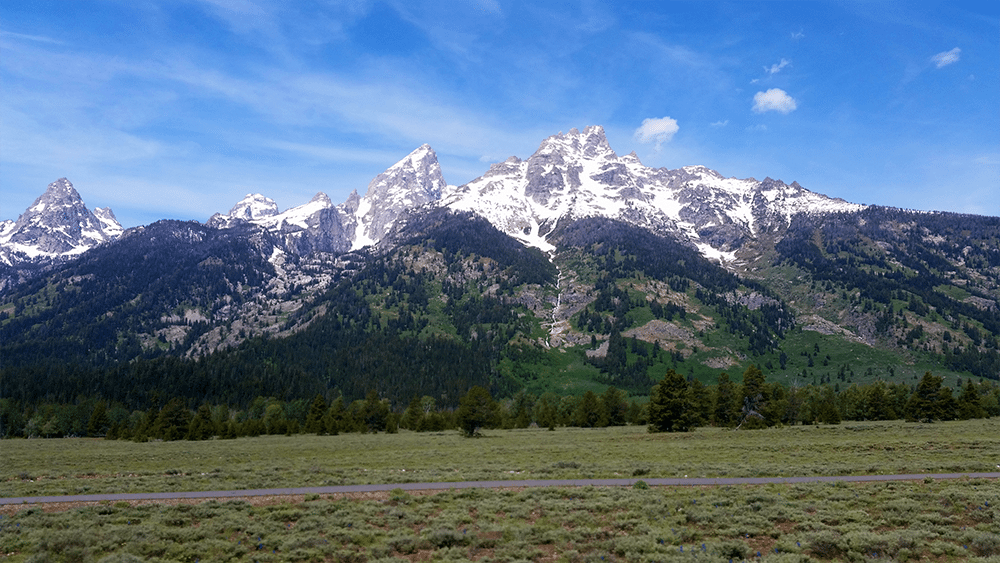 Jump To Highlights:
Wyoming Road Trip from Devil's Tower to Grand Teton
Up until the Tetons, our road trip had been focused on logging as many miles as possible in order to cover the massive distance from Texas to the northern mountain states. We decided early on that we would rather rush for the first few days so we had three full days in Grand Teton National Park. While three days still isn't nearly enough, it is the longest amount of time we had to spend in any one place. As we had about a seven hour drive to get from Devil's Tower National Park to Grand Teton National Park, we hit the road relatively early.

The drive from eastern to western Wyoming was a far different experience than across South Dakota. While the northeast corner that holds Devil's Tower is surrounded by flat prairieland, the rest of the state is brushed with dense forests and sedimentary strata angling out of the landscape in often bright sierra hues.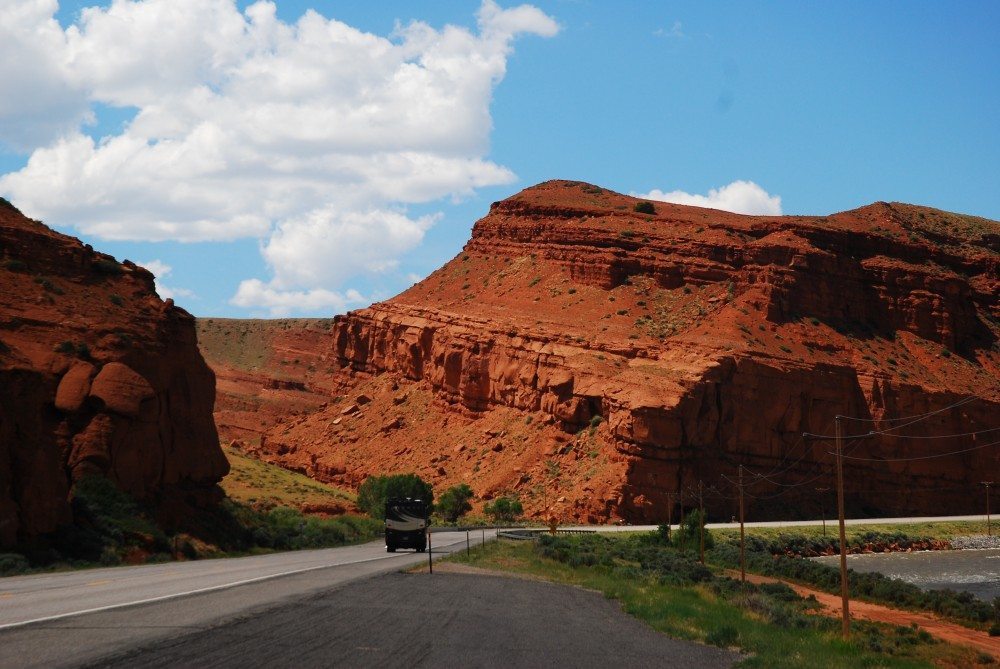 While it's a little longer to take Route 16 through Big Horn National Forest, I highly recommend it. As you head west through the forest you will get your first glimpse of the snow capped peaks on the other side of the state. You'll then take 20 to 26 through the Wind River Indian Reservation and through the thoroughly charming, Wild West town of Dubois. This is last big town before the park, so be sure to stock up — it's a long drive back out and the sundries within the park are limited, and (of course) expensive.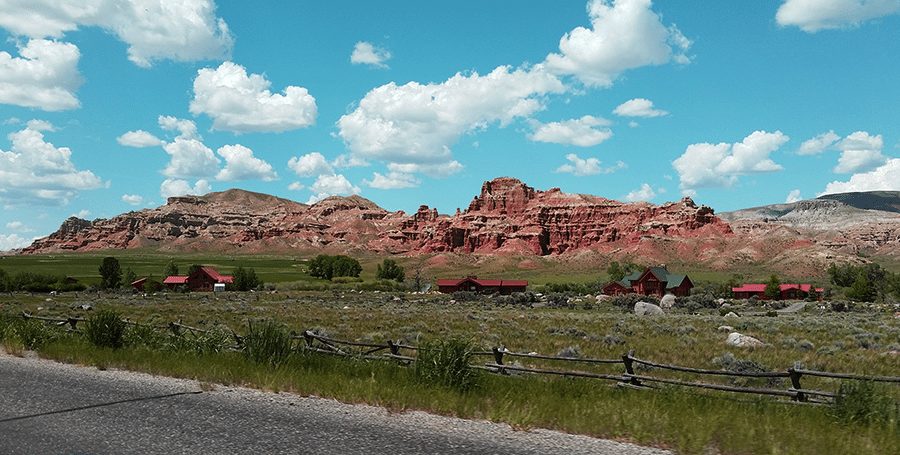 The drive into Grand Teton National Park through Moran is one that will have your head hanging out the window the entire time. And the first peaks you see aren't even the Tetons! There are several campgrounds within the park, but by far the most popular is Jenny Lake. If you are arriving after 10am in the high season, it is highly unlikely you'll find a spot and all campgrounds in the park are FCFS. Luckily, there are several other larger campgrounds that don't usually fill up until the late afternoon and it was still early in the season.
We found a spot at Signal Mountain, but unfortunately all they had left were spots with electric hookups. We didn't need this, and these spots cost $47 (wtf?) compared with primitive spots that cost just $24. As it was, we planned on staying there for one night and moving over to Jenny Lake early in the morning. If you're getting in late in the high season, Lizard Creek is much farther from the action, but it's your best bet to still have available spots.
Primitive: $24 per night
Electric: $47 per night
Campsites: 81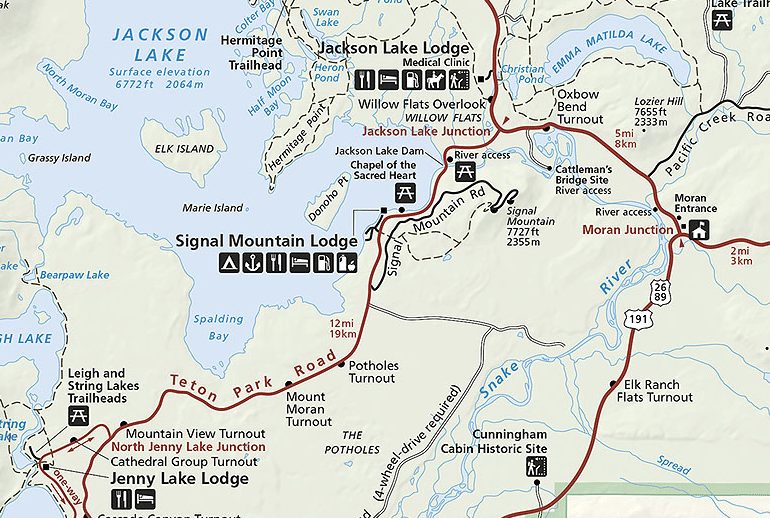 click to enlarge
After setting up camp, we still had enough time to do a short hike before sunset. We chose the 1.1 mile climb (2.2 mi RT) up to Grand View Point. There is a longer trail from Jackson Lake lodge, but we didn't have much time.
This was our first hike of the trip, I had been sedentary for the past six months, and the hike STARTS at above 6,000 ft in elevation, climbing to 7,586 ft at its peak. 1,000 ft in elevation gain per mile is about the max before I rate a hike "difficult." As it was, unacclimated to the change in elevation, I struggled to find my breath the whole way up. Or maybe I was just out of shape. OK, let's be honest – it was probably a little bit of both.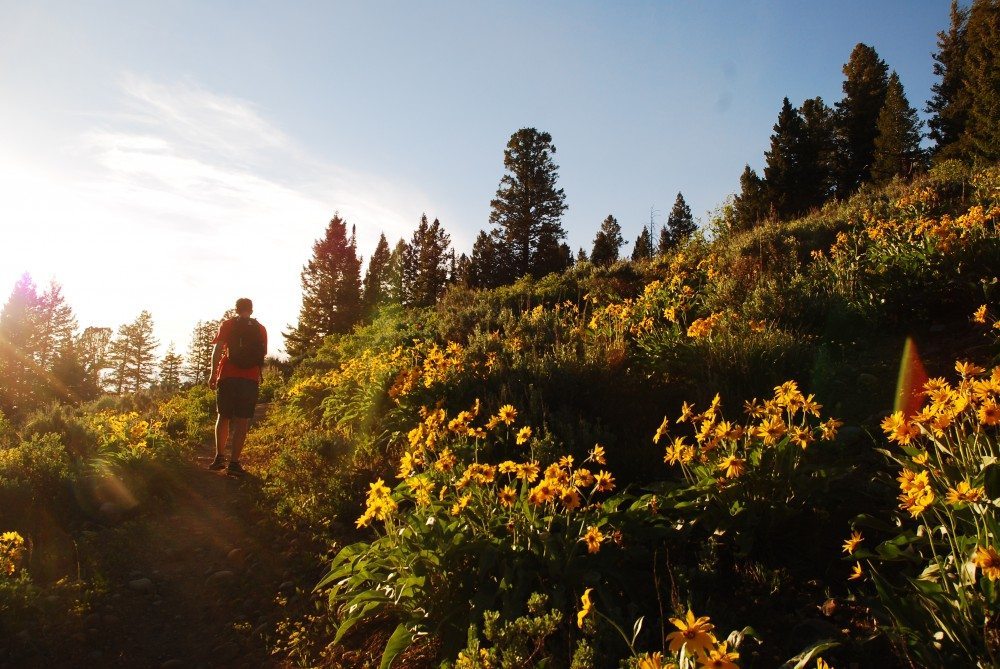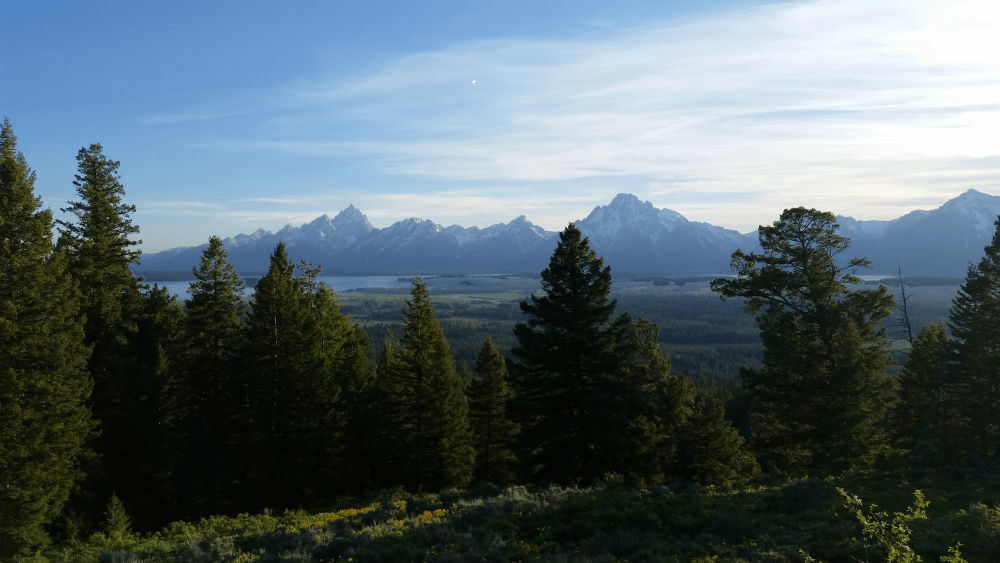 The relatively steep trail winds through mountainside blanketed with yellow wildflowers before reaching the 360° peak. Overlooking the Tetons and Jackson Lake to the west, and Emma Matilda and Two Ocean Lake to the east, it is a perfect first hike to get your bearings on the park from above. If you are doing the longer trail, we heard that moose like to make appearances at Christian Pond, so timing to be there around sunset is the best way to catch a glimpse.
Unfortunately, our plans to bask in the glory of the views were ruined by a vicious swarm of mosquitoes that had descended upon the peak. We looked around, snapped some terrible photos, and immediately headed back. Who knew mosquitoes love coming out at dusk? Oh right, everyone. On our drive back to the campsite, we stopped at one last overlook to take in the humbling (I know, I know) grandeur of the Tetons before dark.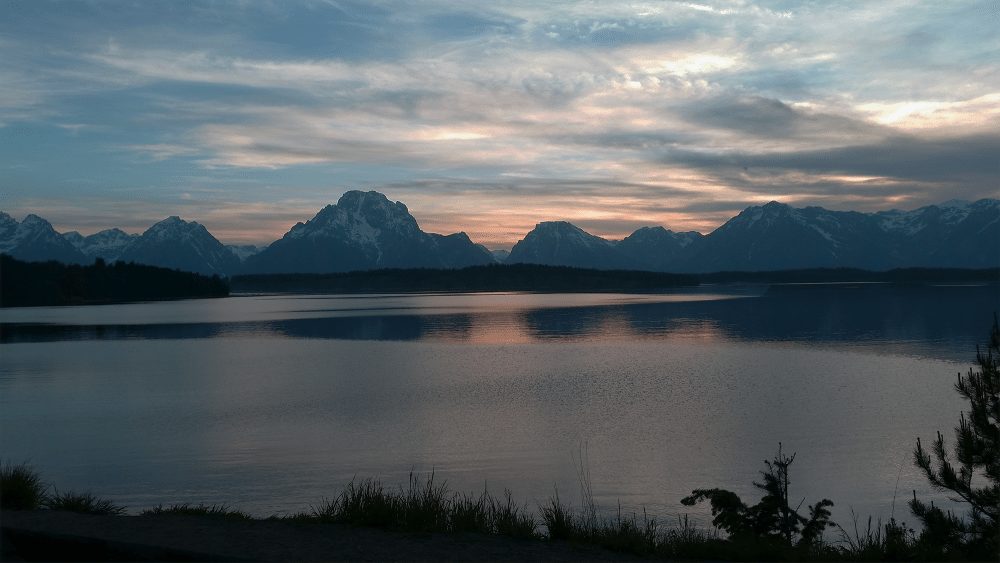 Primitive: $26
Electric: None
Campsites: 49
After our single night at Signal Mountain, we got up bright and early to pack up and drive over to Jenny Lake Campground. Jenny Lake is the only tent-only campground in the whole park and its proximity to the most popular trails makes it highly competitive. Thurs-Sun all spots will be filled by 9am. Mon-Wed they usually fill by 11am.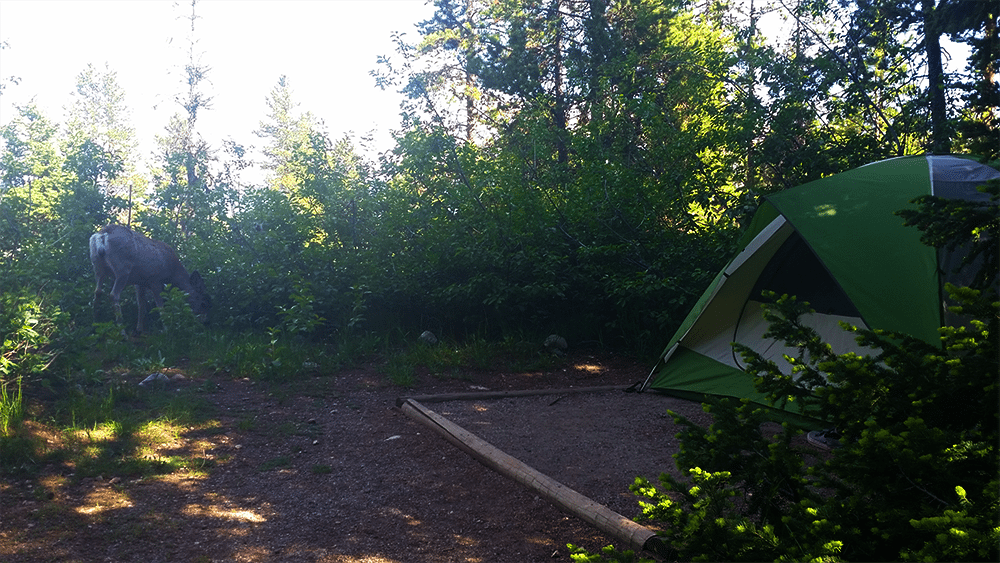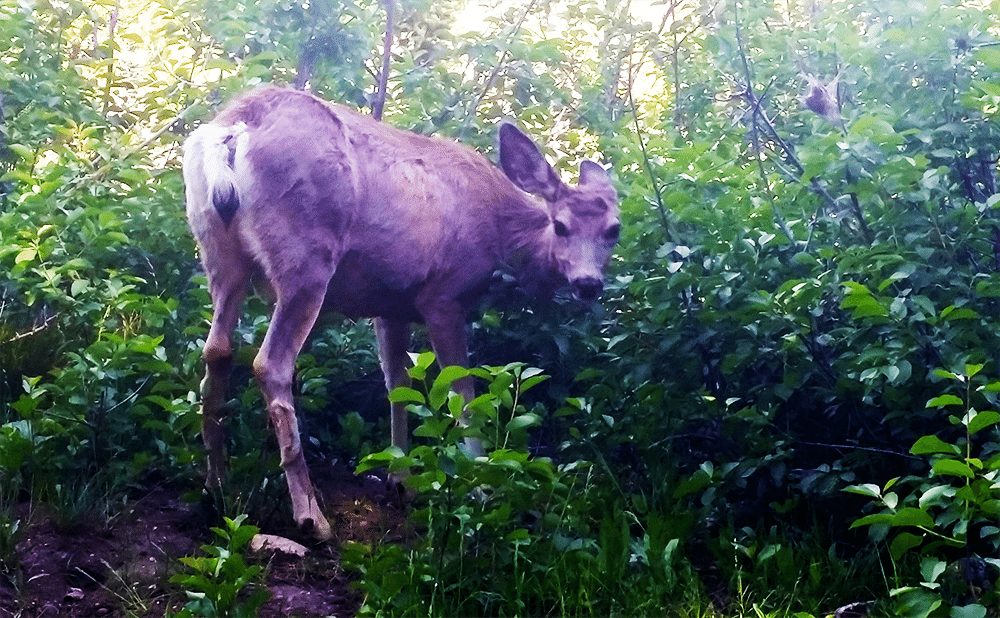 If you want a spot at Jenny Lake, there is only one way to get it: get in before 8am and drive around looking for people who are leaving. Once you find someone, ask them if you can take their spot when they go, and leave a chair or something behind to mark your spot. All of the spots will fill up this way without there ever being an open site. Of course, there are exceptions for people who change their mind and leave a little later, but this is the only way to guarantee yourself a site. NOTE: even if the sign says "Campground Full," drive around anyway. You might just get lucky.
We lucked out and found a pretty good spot, but we ended up reallllly far away from the bathrooms, which was definitely an inconvenience. Also, I have no sense of direction and kept getting lost trying to find it. Yes, I got lost multiple times on a sub-five minute walk. Don't judge.
With a whole day ahead of us, we set off on our first real hike of the trip. We decided on the Phelps Lake Loop as it was only 7.2 miles RT and we didn't want to get in over our heads. To get to Phelps Lake drive south down the main park road towards Moose Junction and make a right on Moose Wilson Rd. If you get to Moose Junction, you've gone too far. From Moose Wilson make another right on Whitegrass Ranch Rd. The names aren't well marked but there is signage for the Phelps Lake Trail. Please keep in mind, Moose Wilson Road is closed November-May.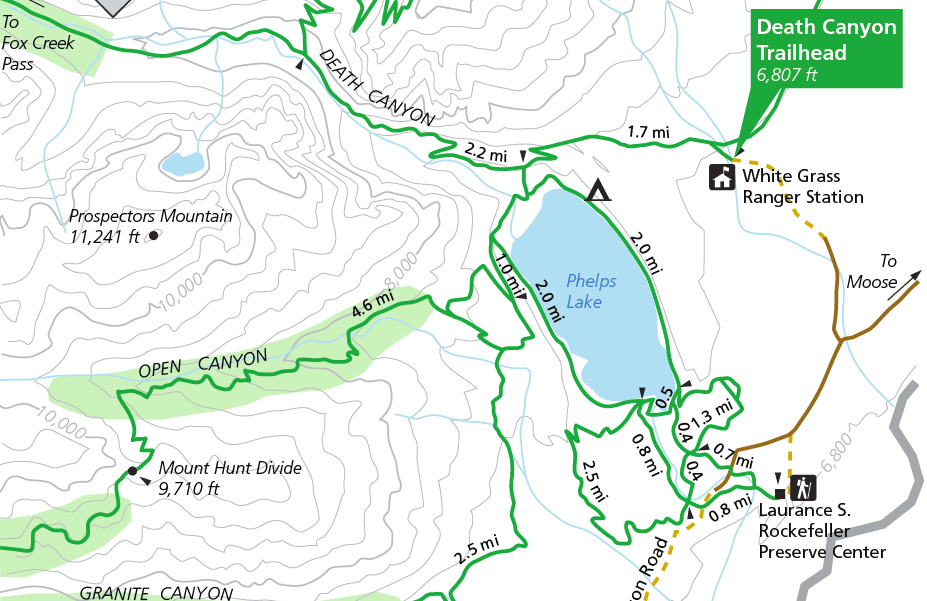 Once you're on Whitegrass Ranch, just keep driving down to get to the Death Canyon Trailhead. It will seem like everyone has parked and you should park too–but keep going. The road ends when you can't go any further and you see the sign for the trail. We learned this the hard way and added 2 miles to our hike by parking too far away!
The hike starts out easy through some aspen groves before a moderate climb up to the Phelps Lake Overlook. Stay to the left at Valley Trail Junction to head towards the lake. While many hikes leave the vista for the end, there is some speedy gratification with this one.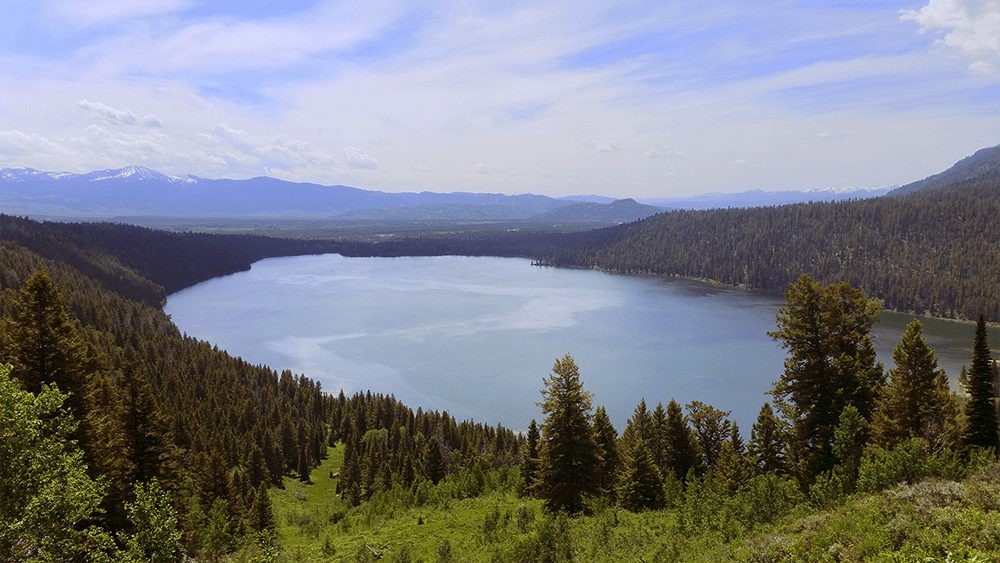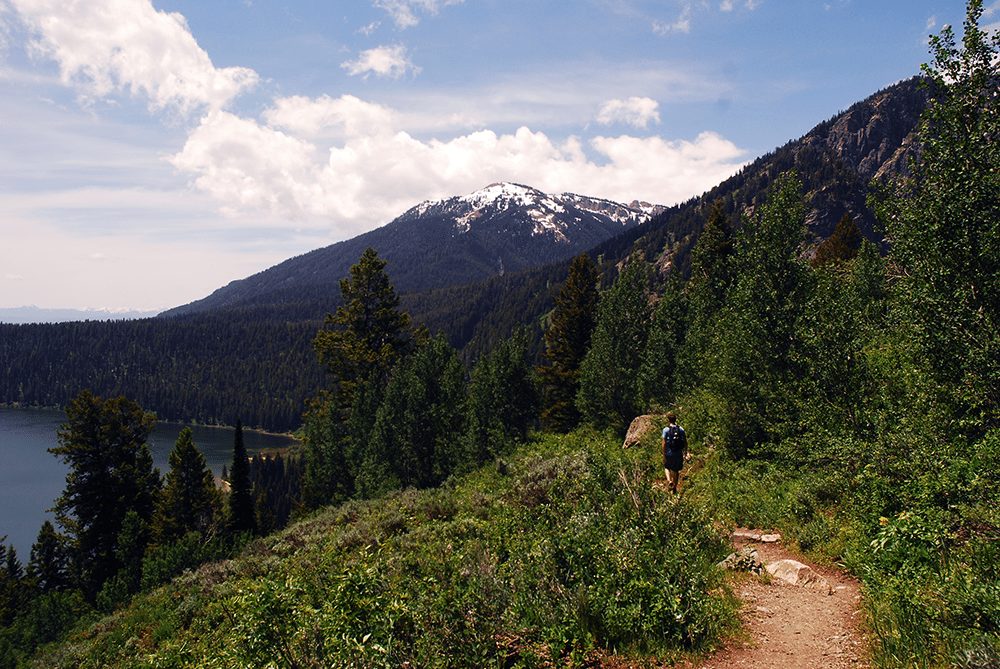 Once you've taken in the views, you can make your way down the trail towards the lake. At 1.7 miles in you will come to the Death Canyon Trail Junction. Stay to the left again or you will end up deep into Death Canyon. When you get down to the lake, make sure to stay to the right to do the loop counter-clockwise. The views are MUCH better this way. The loop around the lake is 4 miles long with plenty of spots to pop a squat for lunch. We chose this little gem on the far side of the lake overlooking Static Peak: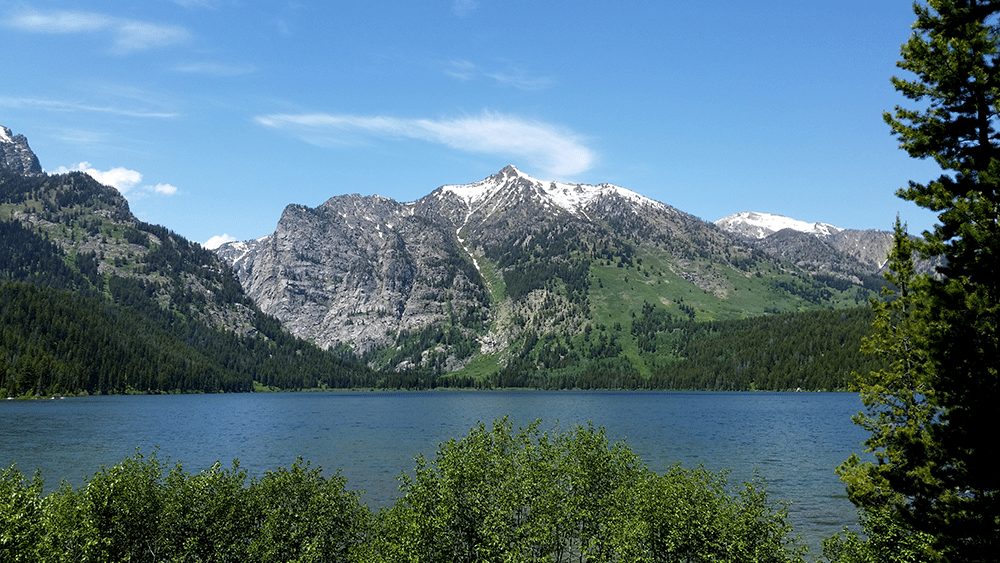 As you head back around the loop, the trail is largely shaded and views of the mountains come in and out. Luckily, the loop is pretty much flat so you can rest up as you prepare for the climb back out of the valley. All-in-all the Phelps Lake Loop (4 mi) + the hike up to the overlook (3.4 RT) + the tiny trail to get to the loop (0.8 mi RT) + the walk to and from the car (2 mi RT) made for a 10.2 mile hike. For my first real hike back, it was great, but a little tough at times. I still didn't feel acclimated to the elevation and the hike back up from the valley is through shadeless afternoon heat. Bring a hat and plenty of water!
Jenny Lake Loop > Inspiration Point > Cascade Canyon
One of reasons why Jenny Lake Campground is so popular is its proximity to the Jenny Lake Loop that connects to arguably the most popular hike in the park: Cascade Canyon. From the campground you can follow a trail straight to Jenny Lake Loop where you can pick up the shuttle boat straight across to the trail. Or – if you're cheap like me – you will walk the western half of the loop and save yourself the $30 per-person round-trip boat fare. Obviously, we choose the latter.
From the Jenny Lake Campground, catch the path to the trail and follow it to the General Store and then on to the Jenny Lake Trailhead. This is probably a little less than a mile. You'll walk in a little before coming up on the boat ramp and you can choose to continue on the trail to the left. The Jenny Lake Loop is 2.4 miles from the trail head to where it divides into the trails for Inspiration Point, Hidden Falls, or continues on the loop around the lake. I can't talk much to what these trails are like as they continue to be under construction.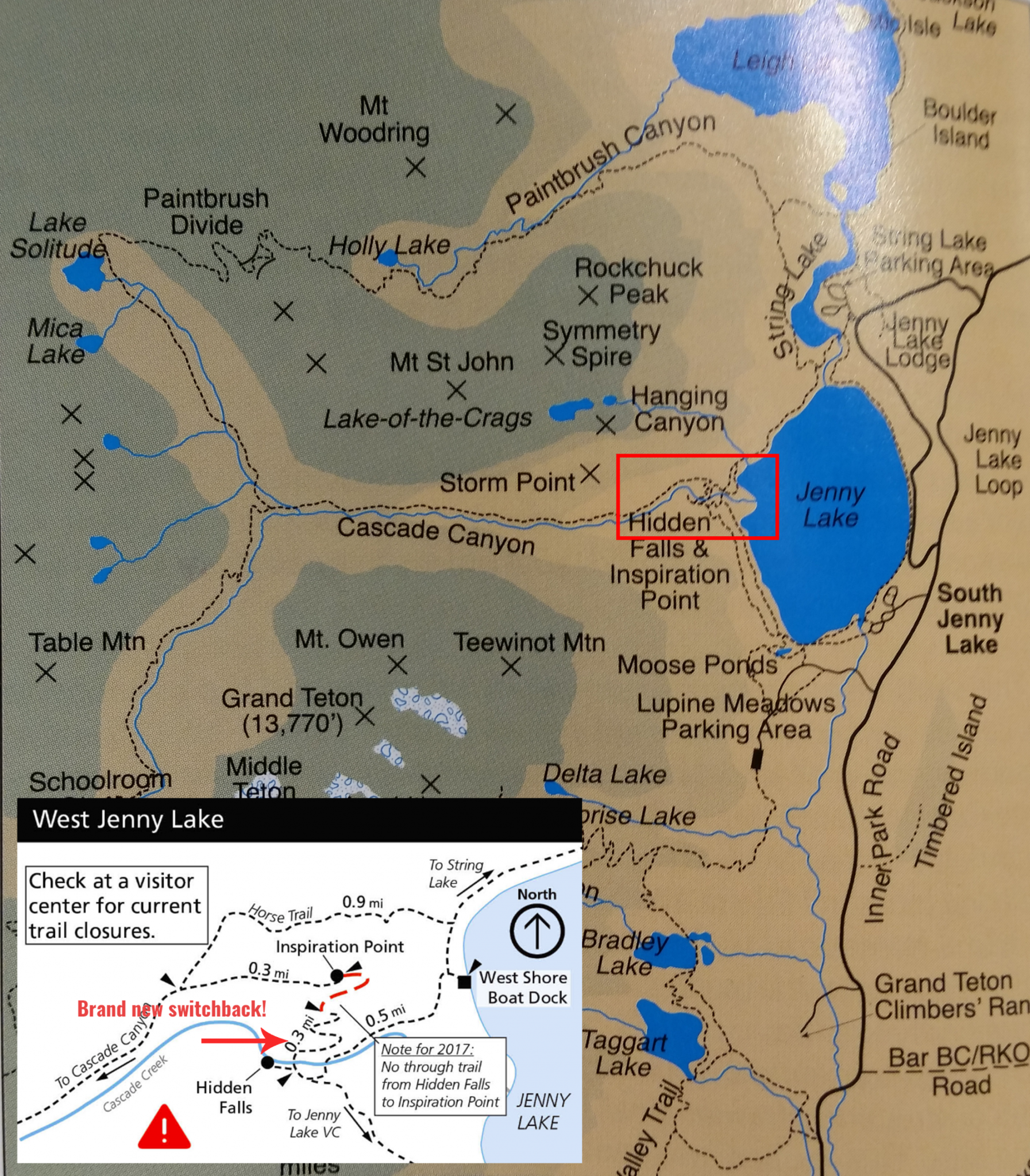 Last summer (2016) they had literally just opened a new switchback up to Inspiration Point as we walked by. I kid you not, the park ranger took down a rope and saved us a couple miles on the long loop around. According to current information, that switchback is closed for the 2017 season and neither Hidden Falls nor Inspiration Point are accessible from those switchbacks. But who knows. Get there and ask a park ranger.
While Hidden Falls may not be accessible, you can still access Inspiration Point, which is where many people come to stop, look around, take pictures, and then leave. These people are not really hiking anywhere, and the crowds won't thin out until you get father down the Cascades Canyon Trail. Granted, this is still a popular trail but we went for over an hour without seeing people most the time. This is just fine for me. Most of the walk through the canyon is pretty level, until you get to the last mile or so and it starts a steep ascent towards Solitude Lake.
Rather than rant any further, I will offer you a whole bunch of pictures of one of the prettiest hikes I've ever been on.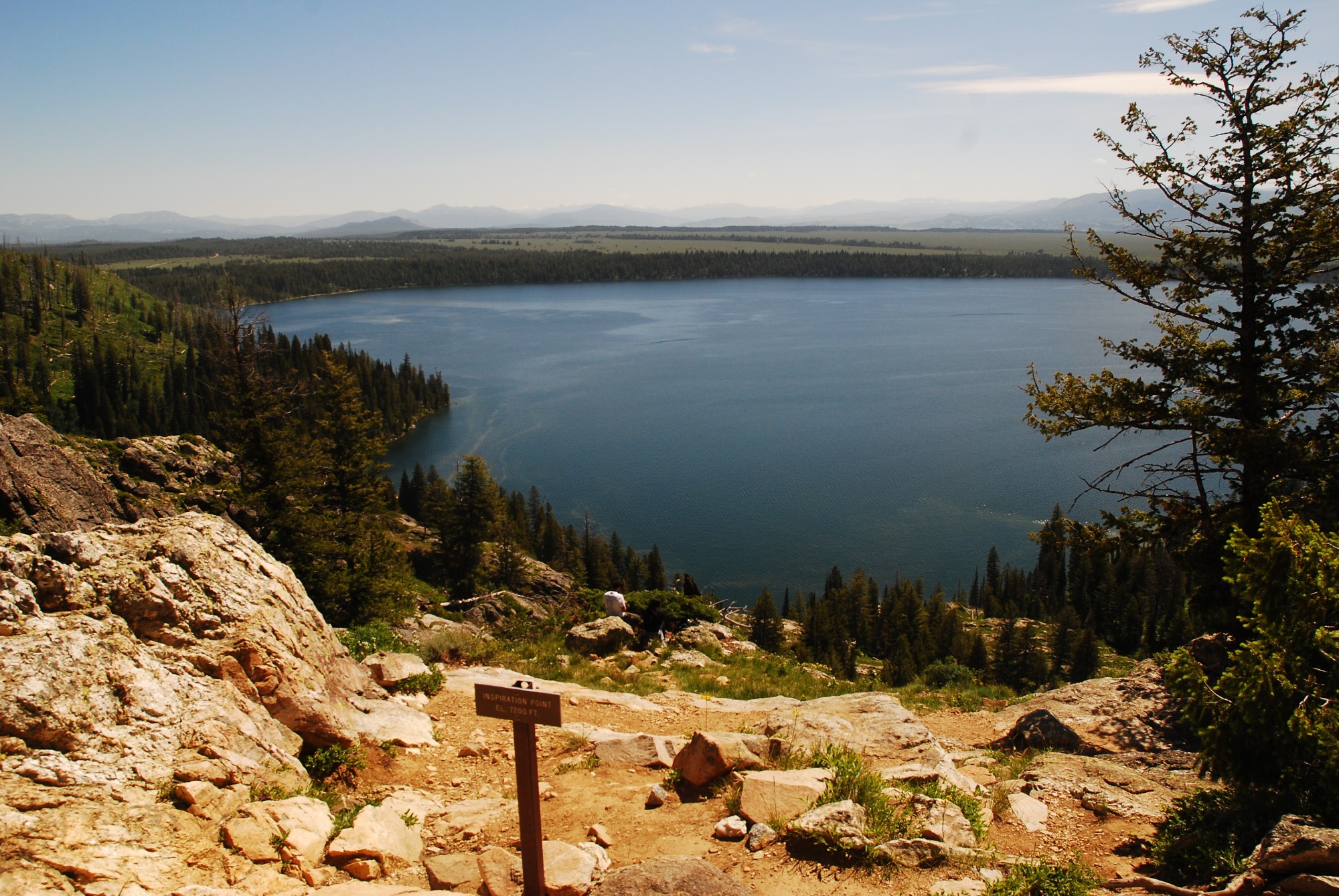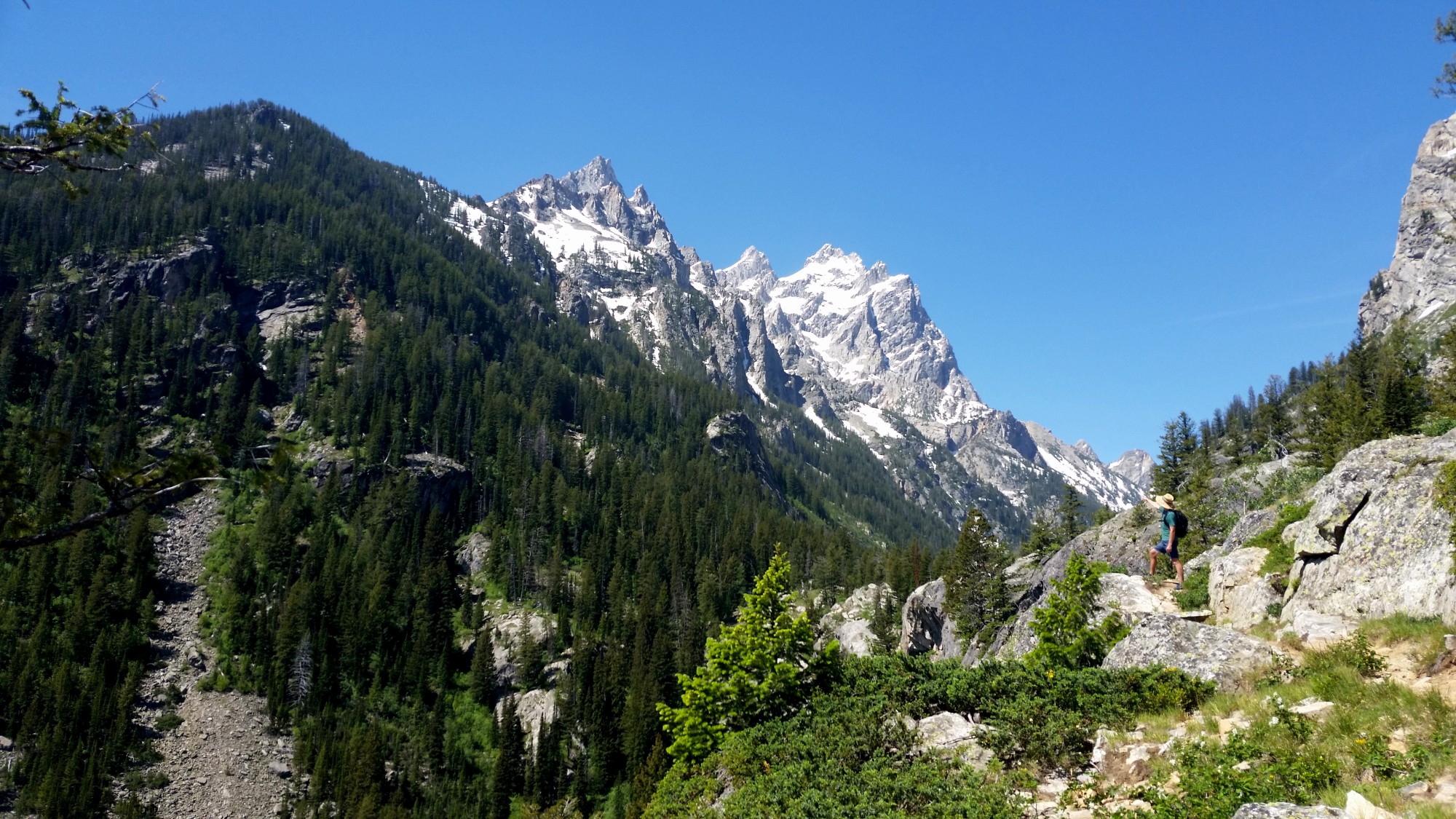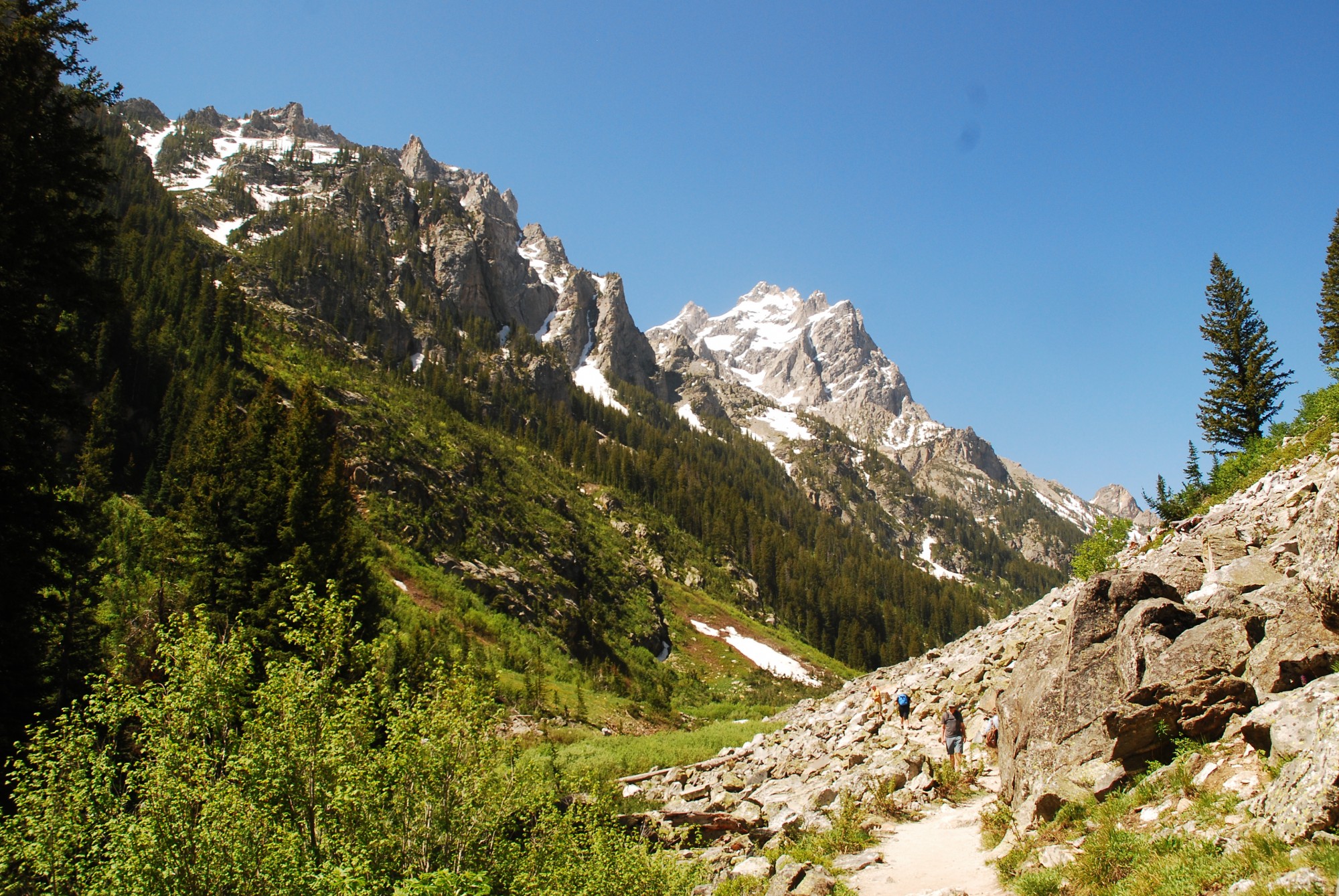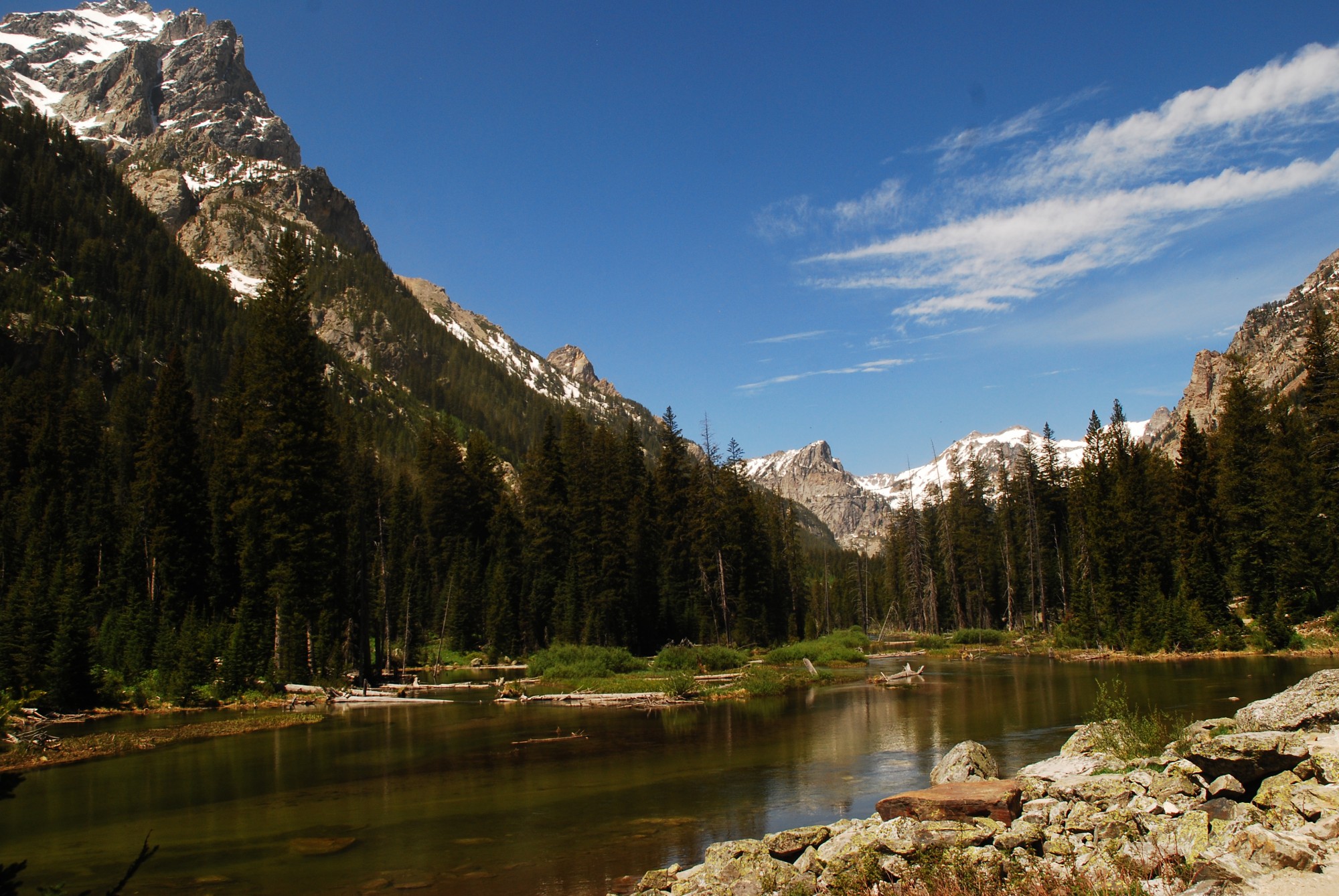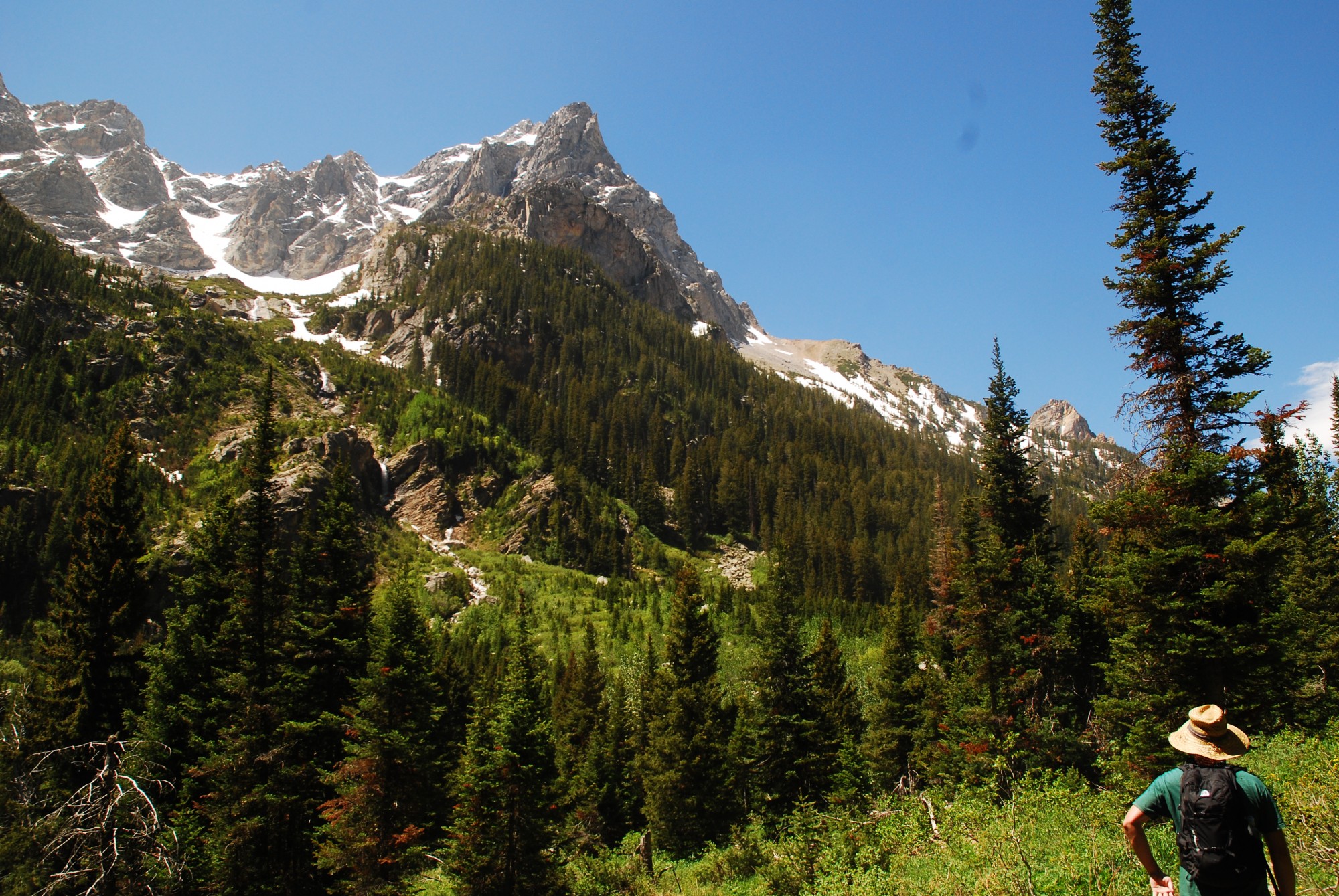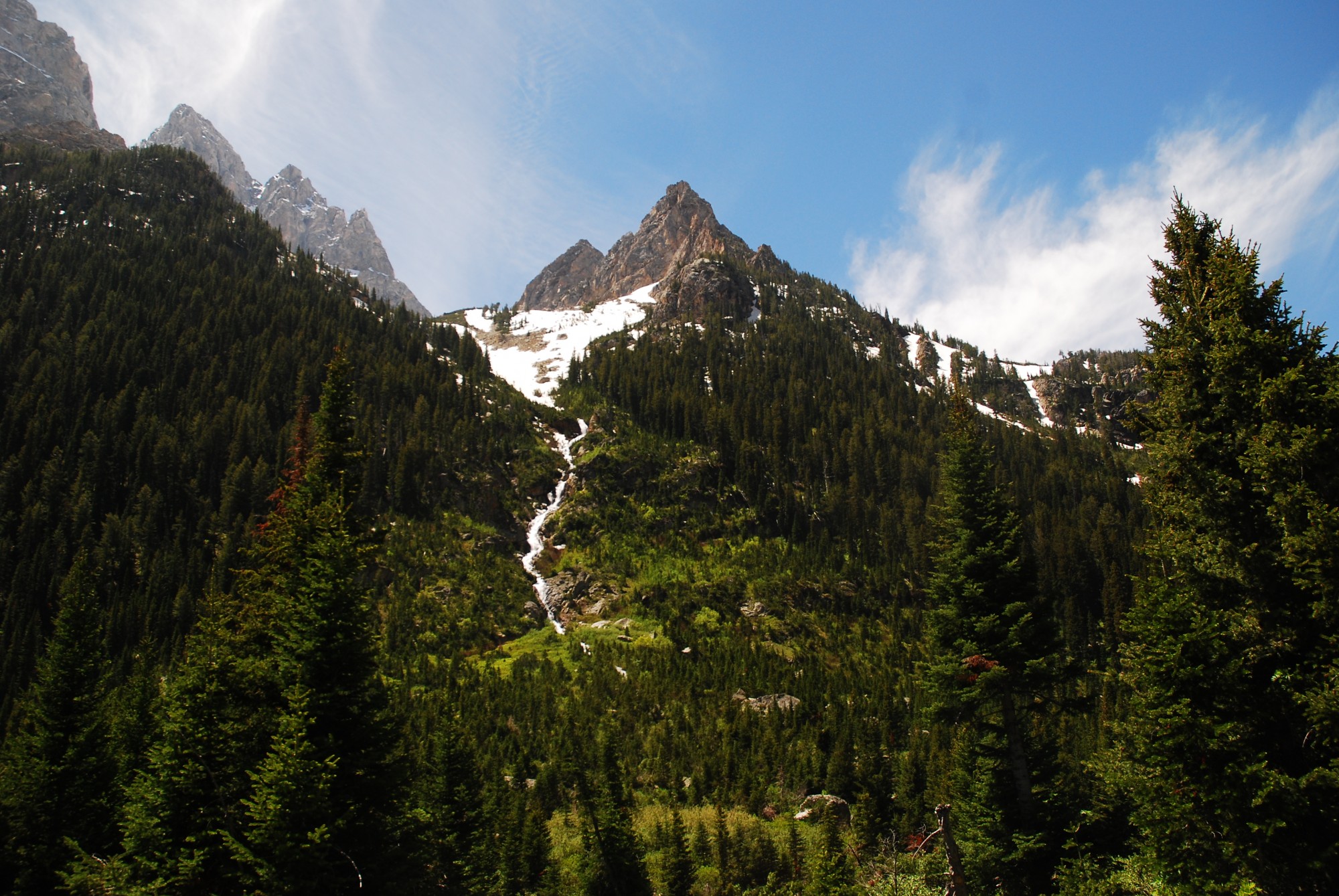 Pretty, right? If you follow the Cascade Canyon Trail up for 3.8 miles, you'll eventually reach a fork in the trail which heads towards Solitude Lake. The trail to Solitude Lake is a little long for a day hike, but if you do make it up to the fork, walk just 2 minutes further up to the left. There is a gorgeous secret waterfall hanging out up there that you would totally miss otherwise.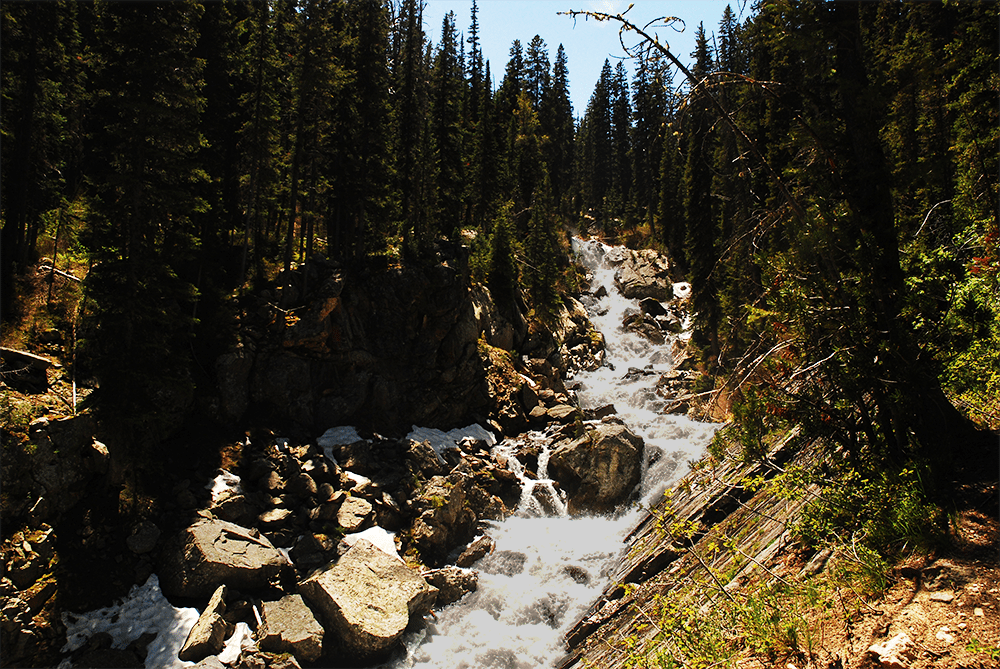 In total, roundtrip from our campsite, the hike was just over 15 miles. The breakdown is:
0.5 miles to the Jenny Lake Trailhead
2.4 miles around Jenny Lake Loop
1.1 miles up to Inspiration Point and then up to the Cascade Canyon Trailhead
3.8 miles to the end of Cascade Canyon
Then turn around and do it all again!
You can easily cut off a lot by opting to take the boat across the lake, which I am sure most people do. With just two full days in the park, there was so much more we wished we could do. Isn't there always? When we go back, Amphitheater Lake is supposed to be one of the best, though at 10,000+ in elevation, it was still covered in snow in early June. We also weren't prepared for multi-day hikes with backcountry camping, which we are making a point to do more of in the future.
In closing thoughts, the Tetons are a mind-blowing mountain range and while the park is popular, it has none of the hectic congestion you find in Yellowstone or Yosemite. That fact that people visit Yellowstone and don't make it to Grand Teton National Park, just 35 miles south, is just nuts! Stay tuned for the next stop on our road trip…
You guessed it…